Narcissistic and Psychopathic Leaders
Click HERE to Download "Narcissistic and Psychopathic Leaders"
Narcissistic and Psychopathic leaders reify the pathologies of their culture and society.
They foster and propagate a personality cult and when things go sour, they turn on their followers and acolytes.
By: Dr. Sam Vaknin
Click HERE to view the video and a talk show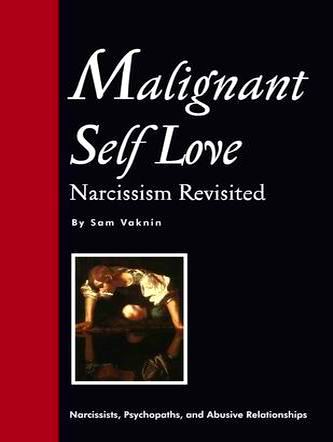 Malignant Self Love - Buy the Book - Click HERE!!!
Relationships with Abusive Narcissists - Buy the e-Books - Click HERE!!!
---
READ THIS: Scroll down to review a complete list of the articles - Click on the blue-coloured text!
Bookmark this Page - and SHARE IT with Others!
---
---
"(The leader's) intellectual acts are strong and independent even in isolation and his will need no reinforcement from others ... (He) loves no one but himself, or other people only insofar as they serve his needs."
Freud, Sigmund, "Group Psychology and the Analysis of the Ego"
"It was precisely that evening in Lodi that I came to believe in myself as an unusual person and became consumed with the ambition to do the great things that until then had been but a fantasy."
(Napoleon Bonaparte, "Thoughts")
"They may all e called Heroes, in as much as they have derived their purposes and their vocation not from the calm regular course of things, sanctioned by the existing order, but from a concealed fount, from that inner Spirit, still hidden beneath the surface, which impinges on the outer world as a shell and bursts it into pieces - such were Alexander, Caesar, Napoleon ... World-historical men - the Heroes of an epoch - must therefore be recognized as its clear-sighted ones: their deeds, their words are the best of their time ... Moral claims which are irrelevant must not be brought into collision with World-historical deeds ... So mighty a form must trample down many an innocent flower - crush to pieces many an object in its path."
(G.W.F. Hegel, "Lectures on the Philosophy of History")
"Such beings are incalculable, they come like fate without cause or reason, inconsiderately and without pretext. Suddenly they are here like lightning too terrible, too sudden, too compelling and too 'different' even to be hated ... What moves them is the terrible egotism of the artist of the brazen glance, who knows himself to be justified for all eternity in his 'work' as the mother is justified in her child ...
In all great deceivers a remarkable process is at work to which they owe their power. In the very act of deception with all its preparations, the dreadful voice, expression, and gestures, they are overcome by their belief in themselves; it is this belief which then speaks, so persuasively, so miracle-like, to the audience."
(Friedrich Nietzsche, "The Genealogy of Morals")
"He knows not how to rule a kingdom, that cannot manage a province; nor can he wield a province, that cannot order a city; nor he order a city, that knows not how to regulate a village; nor he a village, that cannot guide a family; nor can that man govern well a family that knows not how to govern himself; neither can any govern himself unless his reason be lord, will and appetite her vassals; nor can reason rule unless herself be ruled by God, and be obedient to Him."

(Hugo Grotius)
The narcissistic or psychopathic leader is the culmination and reification of his period, culture, and civilization. He is likely to rise to prominence in narcissistic societies. The leader's mental health pathologies resonate with the anomies of his society and culture ("psychopathological resonance".) The leader and the led form a self-enhancing and self-reinforcing feedback loop, a dyad of mirrored adoration and reflected love. By elevating and idealizing their "Fuehrer", the mob actually elevates and idealizes itself and the leader's harnessed ochlocracy; in the "Duce's" ascendance they find hope, in his manifest illness – curative solace and a legitimation of their own collective insanity. The dictator himself equates being elected – however patently unfairly – with being chosen by the transcendental forces of the gods and history. His is a manifest destiny, his exceptionalism - the nation's own.
The malignant narcissist invents and then projects a false, fictitious, self for the world to fear, or to admire. He maintains a tenuous grasp on reality to start with and this is further exacerbated by the trappings of power. The narcissist's grandiose self-delusions and fantasies of omnipotence and omniscience are supported by real life authority and the narcissist's predilection to surround himself with obsequious sycophants.
The leader's personal-intimate life and persona may be utterly different to his political-public ones. It is an unsettling Dr. Jekyll and Mr. Hyde effect. In private, the narcissistic-psychopathic leader may be avuncular, empathic, sentimental, helpful, dull, bourgeois, mediocre, middling, sickly, fussy, aloof, or friendly. But, he is at great pains to conceal these attributes from the public.
The narcissist's personality is so precariously balanced that he cannot tolerate even a hint of criticism and disagreement. Most narcissists are paranoid and suffer from ideas of reference (the delusion that they are being mocked or discussed when they are not). Thus, narcissists often regard themselves as "victims of persecution".
The narcissistic leader fosters and encourages a personality cult with all the hallmarks of an institutional religion: priesthood, rites, rituals, temples, worship, catechism, mythology. The leader is this religion's ascetic saint. He monastically denies himself earthly pleasures (or so he claims) in order to be able to dedicate himself fully to his calling.
The narcissistic leader is a monstrously inverted Jesus, sacrificing his life and denying himself so that his people - or humanity at large - should benefit. By surpassing and suppressing his humanity, the narcissistic leader became a distorted version of Nietzsche's "superman".
Many narcissistic and psychopathic leaders are the hostages of self-imposed rigid ideologies. They fancy themselves Platonic "philosopher-kings". Lacking empathy, they regard their subjects as a manufacturer does his raw materials, or as the abstracted collateral damage in vast historical processes (to prepare an omelet, one must break eggs, as their favorite saying goes).
But being a-human or super-human also means being a-sexual and a-moral.
In this restricted sense, narcissistic leaders are post-modernist and moral relativists. They project to the masses an androgynous figure and enhance it by engendering the adoration of nudity and all things "natural" - or by strongly repressing these feelings. But what they refer to as "nature" is not natural at all.
The narcissistic leader invariably proffers an aesthetic of decadence and evil carefully orchestrated and artificial - though it is not perceived this way by him or by his followers. Narcissistic leadership is about reproduced copies, not about originals. It is about the manipulation of symbols - not about veritable atavism or true conservatism.
In short: narcissistic leadership is about theatre, not about life. To enjoy the spectacle (and be subsumed by it), the cultish leader demands the suspension of judgment, and the attainment of depersonalization and de-realization. Catharsis is tantamount, in this narcissistic dramaturgy, to self-annulment.
Narcissism is nihilistic not only operationally, or ideologically. Its very language and narratives are nihilistic. Narcissism is conspicuous nihilism - and the cult's leader serves as a role model, annihilating the Man, only to re-appear as a pre-ordained and irresistible force of nature.
(continued below)
---
This article appears in my book, "Malignant Self-love: Narcissism Revisited"
Click HERE to buy the print edition from Amazon (click HERE to buy a copy dedicated by the author)
Click HERE to buy the print edition from Barnes and Noble
Click HERE to buy the print edition from the publisher and receive a BONUS PACK
Click HERE to buy electronic books (e-books) and video lectures (DVDs) about narcissists, psychopaths, and abuse in relationships
Click HERE to buy the ENTIRE SERIES of sixteen electronic books (e-books) about narcissists, psychopaths, and abuse in relationships
Click HERE for SPECIAL OFFER 1 and HERE for SPECIAL OFFER 2
Follow me on Twitter, Facebook (my personal page or the book's), YouTube
---
Narcissistic leadership often poses as a rebellion against the "old ways":