The Dependent Patient - A Case Study
"Personality Disorders Revisited" (450 pages e-book) - click HERE to purchase!
By: Dr. Sam Vaknin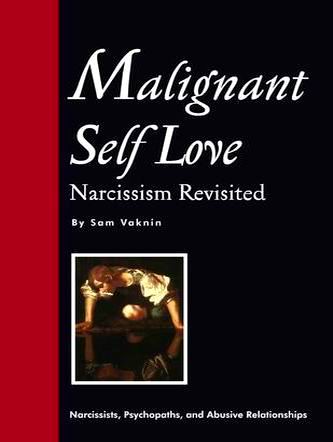 Malignant Self Love - Buy the Book - Click HERE!!!
Relationships with Abusive Narcissists - Buy the e-Books - Click HERE!!!
---
READ THIS: Scroll down to review a complete list of the articles - Click on the blue-coloured text!
Bookmark this Page - and SHARE IT with Others!
---
---
Notes of first therapy session with Mona, female, 32, diagnosed with Dependent Personality Disorder (or Codependence)
"I know I won't actually die, but it often feels like it." - says Mona and nervously pats her auburn hair - "I can't live without him, that's for sure. When he is gone, it's like life switching from Technicolor to black and white. There is no excitement, this electricity in the air that seems to constantly surround him." She misses him so much that it physically hurts. Sometimes she feels like throwing up at the mere thought of separating or being abandoned by him. She is helpless without him: "He is so masterful and knows how to fix things around the house." He is gorgeous and a great lover.
Is he intellectually stimulating? Do they talk a lot? She moves uncomfortably in her seat: "He is more the silent strong type." She is supporting him financially. "He is studying". In the last seven years he had switched from psychology to political science to physical therapy. How long will she underwrite his quest for self-realization? "As long as it takes. I love him".
(continued below)
---
This article appears in my book "Malignant Self-love: Narcissism Revisited"
Click HERE to buy the print edition from Amazon (click HERE to buy a copy dedicated by the author)
Click HERE to buy the print edition from Barnes and Noble
Click HERE to buy the print edition from the publisher and receive a BONUS PACK
Click HERE to buy electronic books (e-books) and video lectures (DVDs) about narcissists, psychopaths, and abuse in relationships
Click HERE to buy the ENTIRE SERIES of sixteen electronic books (e-books) about narcissists, psychopaths, and abuse in relationships
Click HERE for SPECIAL OFFER 1 and HERE for SPECIAL OFFER 2
Follow me on Twitter, Facebook (my personal page or the book's), YouTube
---
She acknowledges that he is verbally and sometimes physically abusive. He has cheated on her more times than she can count, usually with classmates at the university. So, why is she still with him? "He has his good sides". Do they outweigh his bad ones? She is evidently displeased with my question but is reluctant to express her reservations.
I tell her that - her intimate partner having refused to attend therapy - I am merely trying to get to know him better if only by proxy. Evidently something is bothering her, otherwise we wouldn't be having this therapy session. "I want to learn how to hold on to him."- she whispers - "He is a very special man and has special needs. I am looking for guidance on how to hook him. I want him to become addicted to me, like a junkie." She even participated in group sex once or twice to make his fantasies come true.
Does this strike her as the basis for a healthy relationship? She doesn't care. She consulted all her friends and even casual acquaintances but she doesn't know whether to trust them. Does she have many friends? Not any more. Why not? People get tired of her, they say that she is clinging. But that's not true - she only asks their advice on a regular basis. "What are friends for, anyhow?"
Does she have a job? She is a lawyer, but her dream is to become a film director. She vividly and enthusiastically describes what she would do behind the camera. What's holding her back? She laughs self-deprecatingly: "Except for mediocre talent, nothing."
---
Click on these links to learn more:
Codependence, Counterdependence and Dependent Personality Disorder
Case Studies
Negativistic (Passive-Aggressive)
---
Many additional Frequently Asked Questions (FAQs) about Personality Disorders - click HERE!
---
Copyright Notice
This material is copyrighted. Free, unrestricted use is allowed on a non commercial basis.
The author's name and a link to this Website must be incorporated in any reproduction of the material for any use and by any means.
---
Malignant Self Love - Narcissism Revisited
Frequently Asked Questions about Pathological Narcissism
Excerpts from the Archive of the Narcissism List
World in Conflict and Transition
Internet: A Medium or a Message?
Write to me: palma@unet.com.mk or narcissisticabuse-owner@yahoogroups.com