Why Does the Narcissist or Psychopath Keep Coming Back?
Narcissists cultivate sources of narcissistic supply in an all-consuming life-long effort. This is why they keep coming back for more.
By: Dr. Sam Vaknin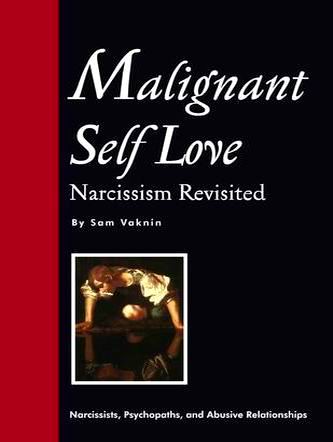 Malignant Self Love - Buy the Book - Click HERE!!!
Relationships with Abusive Narcissists - Buy the e-Books - Click HERE!!!
---
READ THIS: Scroll down to review a complete list of the articles - Click on the blue-coloured text!
Bookmark this Page - and SHARE IT with Others!
---
---
I keep dumping my narcissist - and he keeps coming back for more. I accept him (can't resist him when he is his charming self). But then things go awry and the cycle repeats itself. Why does he keep coming back?
Answer:
Narcissists are addicted to a drug known as "Narcissistic Supply". Attention (good OR bad), adulation, applause, fame, celebrity, notoriety - are all narcissistic supply. The people who supply these consistently, reliably, and predictably, are called "Narcissistic Supply Sources".
Why should the narcissist look for another source of supply if the current source of supply is available and always accepts him back?
Cultivating a source of secondary narcissistic supply is a VERY time consuming and energy depleting affair. The narcissist always prefers the path of least resistance (reverting to old sources).
The old source has the advantage of having witnessed and "recorded" the narcissist's past grandeur. Her very repeated "surrender" and "yielding to his charm" IS the narcissistic supply he seeks.
(continued below)
---
This article appears in my book "Malignant Self-love: Narcissism Revisited"
Click HERE to buy the print edition from Amazon (click HERE to buy a copy dedicated by the author)
Click HERE to buy the print edition from Barnes and Noble
Click HERE to buy the print edition from the publisher and receive a BONUS PACK
Click HERE to buy electronic books (e-books) and video lectures (DVDs) about narcissists, psychopaths, and abuse in relationships
Click HERE to buy the ENTIRE SERIES of sixteen electronic books (e-books) about narcissists, psychopaths, and abuse in relationships
Click HERE for SPECIAL OFFER 1 and HERE for SPECIAL OFFER 2
Follow me on Twitter, Facebook (my personal page or the book's), YouTube
---
More generally, the narcissist sort of pushes the envelope, trying to ascertain and map the outer limits of his potency as an irresistible male and desirable mate. The more tortured the relationship - the sweeter the recurrent "victory" (reconciliation). This is doubly true when the narcissist is in the throes of life crises such as loss of a job, divorce, serious illness, etc.
He then tends to derive self esteem and a sense of self worth by proxy, by being associated with a successful woman
You may wish to refresh your memory regarding libidinal allocation in pathological narcissists:

http//samvak.tripod.com/msla7.html
https://samvak.tripod.com/msla8.html

To summarize:
Your narcissist keeps coming back and remains fixated on you because he has no free libido to employ in the pursuit of alternative sources. And because you keep accepting him back.
---
Also Read
Narcissists, Narcissistic Supply and Sources of Supply
---
Copyright Notice
This material is copyrighted. Free, unrestricted use is allowed on a non commercial basis.
The author's name and a link to this Website must be incorporated in any reproduction of the material for any use and by any means.
---
Frequently Asked Questions about Pathological Narcissism
Excerpts from the Archive of the Narcissism List
After the Rain - How the West Lost the East
Internet: A Medium or a Message?
Write to me: palma@unet.com.mk or narcissisticabuse-owner@yahoogroups.com