Condoning Abuse
By: Dr. Sam Vaknin
Emotional, Verbal, and Psychological Abuse, Domestic and Family Violence and Spousal Abuse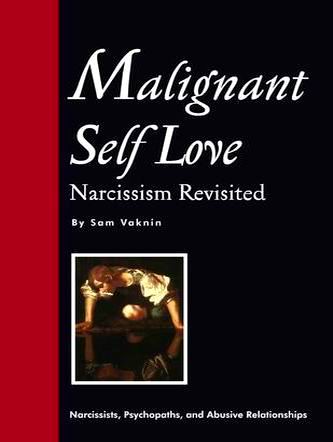 Malignant Self Love - Buy the Book - Click HERE!!!
Relationships with Abusive Narcissists - Buy the e-Books - Click HERE!!!
---
READ THIS: Scroll down to review a complete list of the articles - Click on the blue-coloured text!
Bookmark this Page - and SHARE IT with Others!
---
---
Important Comment
Most abusers are men. Still, some are women. We use the masculine and feminine adjectives and pronouns ('he", his", "him", "she", her") to designate both sexes: male and female as the case may be.

Statistics show that intimate partner abuse, including domestic violence, has declined by one half in the last decade in the United States. Jay Silverman and Gail Williamson demonstrated in "Social Ecology and Entitlements Involved in Battering by Heterosexual College Males" (published in Violence and Victims, Volume 12, Number 2, Spring 1997) that abuse is best predicted by two factors: the belief that mistreatment is justified and the succor of peers.
These two facts elucidate the cultural and social roots of abusive behavior. Abuse is bound to be found in patriarchal, narcissistic, or misogynistic collectives. Many societies exhibit cross sections of these three traits. Thus, most patriarchal groups are also misogynistic, either overtly and ideologically so – or covertly and in denial.
Paradoxically, women's lib initially makes things worse. The first period of social dislocation – when gender roles are redefined – often witnesses a male backlash in the form of last ditch patriarchy and last resort violence, trying to restore the "ancient regime". But as awareness and acceptance of women's equal rights grow, abuse is frowned upon and, consequently, declines.
Alas, four fifths of humanity are far from this utopian state of things. Even in the most prosperous, well-educated, and egalitarian societies of the West there are sizable pockets of ill-treatment that cut across all demographic and social-economic categories.
Women are physically weaker and, despite recent strides, economically deprived or restricted. This makes them ideal victims – dependent, helpless, devalued. Even in the most advanced societies, women are still expected to serve their husbands, maintain the family, surrender their autonomy, and abrogate their choices and preferences if incompatible with the ostensible breadwinner's.
Women are also widely feared. The more primitive, poorer, or less educated the community – the more women are decried as evil temptresses, whores, witches, possessors of mysterious powers, defilers, contaminants, inferior, corporeal (as opposed to spiritual), subversive, disruptive, dangerous, cunning, or lying.
Violence is considered by members of such collectives a legitimate means of communicating wishes, enforcing discipline, coercing into action, punishing, and gaining the approval of kin, kith, and peers. To the abuser, the family is an instrument of gratification – economic, narcissistic, and sexual. It is a mere extension of the offender's inner world, and, thus, devoid of autonomy and independent views, opinions, preferences, needs, choices, emotions, fears, and hopes.
(continued below)
---
This article appears in my book, "Malignant Self-love: Narcissism Revisited"
Click HERE to buy the print edition from Amazon (click HERE to buy a copy dedicated by the author)
Click HERE to buy the print edition from Barnes and Noble
Click HERE to buy the print edition from the publisher and receive a BONUS PACK
Click HERE to buy electronic books (e-books) and video lectures (DVDs) about narcissists, psychopaths, and abuse in relationships
Click HERE to buy the ENTIRE SERIES of sixteen electronic books (e-books) about narcissists, psychopaths, and abuse in relationships
Click HERE for SPECIAL OFFER 1 and HERE for SPECIAL OFFER 2
Follow me on Twitter, Facebook (my personal page or the book's), YouTube
---
The abuser feels that he is entirely within his rights to impose his species of order in his own impregnable "castle". The other members of the household are objects. He reacts with violent rage to any proof or reminder to the contrary. Moreover, his view of the family is embedded in many legal systems, supported by norms and conventions, and reflected in social arrangements.
But abusive behavior is frequently the outcome of objective societal and cultural factors.
Abuse and violence are "intergenerationally transmitted". Children who grow up in dysfunctional and violent families – and believe that the aggression was justified – are vastly more likely to become abusive parents and spouses.
Social stresses and anomy and their psychological manifestations foster intimate partner violence and child abuse. War or civil strife, unemployment, social isolation, single parenthood, prolonged or chronic sickness, unsustainably large family, poverty, persistent hunger, marital discord, a new baby, a dying parent, an invalid to be cared for, death of one's nearest and dearest, incarceration, infidelity, substance abuse – have all proven to be contributing factors.
This is the subject of the next article.
A critical reading of R. Lundy Bancroft's Essay – Understanding the Batterer in Custody and Visitation Disputes (1998)
Bancroft's essay is indispensable reading to anyone in the throes of separation, divorce, or custody proceedings.
Alas, Bancroft, like numerous other mental health professionals, fails to identify pathological narcissism when confronted with it. Astonishingly - and tellingly - the word "narcissism" is not mentioned even once in a very long text on abuse.
He concludes:
"Although a percentage of batterers have psychological problems, the majority do not. They are often thought to have low self-esteem, high insecurity, dependent personalities, or other results from childhood wounds, but in fact batterers are a cross-section of the population with respect to their emotional make-up."
Follows Bancroft's profile of a typical abuser in the very same article.
Doesn't it strike you as the description of a malignant narcissist? If it does, you are right. Bancroft, unwittingly, describes a pathological, malignant narcissist to a tee! Yet, he is totally blind to it. This lack of awareness of mental health practitioners is common. They often under-diagnose or misdiagnose pathological narcissism!
Bancroft's PROFILE of the TYPICAL ABUSER (actually, of a malignant narcissist)
"The batterer is controlling; he insists on having the last word in arguments and decision-making, he may control how the family's money is spent, and he may make rules for the victim about her movements and personal contacts, such as forbidding her to use the telephone or to see certain friends.
He is manipulative; he misleads people inside and outside of the family about his abusiveness, he twists arguments around to make other people feel at fault, and he turns into a sweet, sensitive person for extended periods of time when he feels that it is in his best interest to do so. His public image usually contrasts sharply with the private reality.
He is entitled; he considers himself to have special rights and privileges not applicable to other family members. He believes that his needs should be at the center of the family's agenda, and that everyone should focus on keeping him happy. He typically believes that it is his sole prerogative to determine when and how sexual relations will take place, and denies his partner the right to refuse (or to initiate) sex. He usually believes that housework and childcare should be done for him, and that any contributions he makes to those efforts should earn him special appreciation and deference. He is highly demanding.
He is disrespectful; he considers his partner less competent, sensitive, and intelligent than he is, often treating her as though she were an inanimate object. He communicates his sense of superiority around the house in various ways.
The unifying principle is his attitude of ownership. The batterer believes that once you are in a committed relationship with him, you belong to him. This possessiveness in batterers is the reason why killings of battered women so commonly happen when victims are attempting to leave the relationship; a batterer does not believe that his partner has the right to end a relationship until he is ready to end it.
Because of the distorted perceptions that the abuser has of rights and responsibilities in relationships, he considers himself to be the victim. Acts of self-defense on the part of the battered woman or the children, or efforts they make to stand up for their rights, he defines as aggression against him. He is often highly skilled at twisting his descriptions of events to create the convincing impression that he has been victimized. He thus accumulates grievances over the course of the relationship to the same extent that the victim does, which can lead professionals to decide that the members of the couple "abuse each other" and that the relationship has been 'mutually hurtful."
It seems that CONTROL is the problem - not VIOLENCE.
Bancroft writes:
"A significant proportion of batterers required to attend counseling because of a criminal conviction have been violent only one to five times in the history of their relationship, even by the victim's account. Nonetheless, the victims in these cases report that the violence has had serious effects on them and on their children, and that the accompanying pattern of controlling and disrespectful behaviors are serving to deny the rights of family members and are causing trauma.
Thus the nature of the pattern of cruelty, intimidation, and manipulation is the crucial factor in evaluating the level of abuse, not just the intensity and frequency of physical violence. In my decade of working with abusers, involving over a thousand cases, I have almost never encountered a client whose violence was not accompanied by a pattern of psychological abusiveness."
"An abuser's desire for control often intensifies as he senses the relationship slipping away from him. He tends to focus on the debt he feels his victim owes him, and his outrage at her growing independence."
RIGHT vs. NEED
Bancroft says:
"Most batterers do not have an inordinate need for control, but rather feel an inordinate right to control under family and partnership circumstances."
But the distinction Bancroft makes between "need" and "right" is spurious. If you think that you have the right to something, you concomitantly feel the need to have your right asserted, accepted, and enforced.
If someone violates your rights, you get frustrated and angry because your need to have your rights respected and enforced hasn't been met.
I also strongly disagree with Bancroft - as does a huge volume of research - that control freakery can be limited to home. A control freak is a control freak everywhere! Control freakery, though, manifests in a myriad ways. Obsessing, acting compulsively, and being overly inquisitive, for instance, are all forms of exerting control.
Sometimes controlling behavior is very difficult to identify: a smothering or dotting mother, a "friend" who keeps "guiding" you, a neighbor who compulsively takes out your garbage ...
This is exactly what stalkers do. They cannot get someone to commit to a relationship (real or delusional). They then proceed to "control" the unwilling partner by harassing, threatening and invading his or her life.
From the outside, it is often impossible to identify many of these behaviors as abusive control.
NURTURE vs. CULTURE
Bancroft observes that "...battering behavior is mostly driven by culture rather than by individual psychology."
Culture and society do play an important part. As I say here:
https://samvak.tripod.com/abusefamily.html
"The abuser may be functional or dysfunctional, a pillar of society, or a peripatetic con-artist, rich or poor, young or old. There is no universally-applicable profile of the "typical abuser".
And here:
https://samvak.tripod.com/abuse.html
"Abuse and violence cross geographical and cultural boundaries and social and economic strata. It is common among the rich and the poor, the well-educated and the less so, the young and the middle-aged, city dwellers and rural folk. It is a universal phenomenon."
Still, it is wrong to attribute abusive behavior exclusively to one set of parameters (psychology), or to another (culture-society). The mixture does it.
Lundy Bancroft on batterers, David Hare on the subject of psychopathy (and, modesty notwithstanding, myself on pathological narcissism) represent a breed of mavericks, rejected by the "experts" and "professionals" in their fields. But they are both, to my mind, authorities. Their experience is invaluable. Whether they are good at constructing theories and generalizing their experience is a different matter altogether. Their contribution is mainly phenomenological, not theoretical.
---
RESOURCES
How to Spot an Abuser on Your First Date
The Toxic Relationships Study List
"Trauma Bonding" and the Psychology of Torture
Traumas as Social Interactions
Spousal (Domestic) Abuse and Violence
Verbal and Emotional Abuse - Articles Menu
HealthyPlace Narcissistic Personality Disorder (NPD) Community
Case Studies on the Psychopath and Narcissist Survivors Support Group
Ask Sam on the Psychopath and Narcissist Survivors Support Group
Ask Sam on the Narcissistic Abuse Recovery Forum
Domestic Violence and Abuse statistics - Click here
---
Copyright Notice
This material is copyrighted. Free, unrestricted use is allowed on a non commercial basis.
The author's name and a link to this Website must be incorporated in any reproduction of the material for any use and by any means.
---
Frequently Asked Questions about Pathological Narcissism
Excerpts from the Archive of the Narcissism List
After the Rain - How the West Lost the East
Internet: A Medium or a Message?
Write to me: palma@unet.com.mk or narcissisticabuse-owner@yahoogroups.com