How Victims are Affected by Abuse
By: Dr. Sam Vaknin
Click HERE to view the video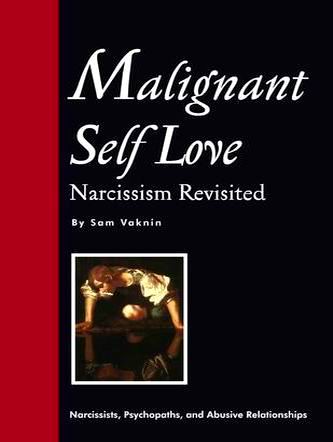 Malignant Self Love - Buy the Book - Click HERE!!!
Relationships with Abusive Narcissists - Buy the e-Books - Click HERE!!!
---
READ THIS: Scroll down to review a complete list of the articles - Click on the blue-coloured text!
Bookmark this Page - and SHARE IT with Others!
---
---
Repeated abuse has long lasting pernicious and traumatic effects such as panic attacks, hypervigilance, sleep disturbances, flashbacks (intrusive memories), suicidal ideation, and psychosomatic symptoms. The victims experience shame, depression, anxiety, embarrassment, guilt, humiliation, abandonment, and an enhanced sense of vulnerability.
C-PTSD (Complex PTSD) has been proposed as a new mental health diagnosis by Dr. Judith Herman of Harvard University to account for the impact of extended periods of trauma and abuse.
In "Stalking – An Overview of the Problem" [Can J Psychiatry 1998;43:473–476], authors Karen M Abrams and Gail Erlick Robinson write:
"Initially, there is often much denial by the victim. Over time, however, the stress begins to erode the victim's life and psychological brutalisation results. Sometimes the victim develops an almost fatal resolve that, inevitably, one day she will be murdered. Victims, unable to live a normal life, describe feeling stripped of self-worth and dignity. Personal control and resources, psychosocial development, social support, premorbid personality traits, and the severity of the stress may all influence how the victim experiences and responds to it… Victims stalked by ex-lovers may experience additional guilt and lowered self-esteem for perceived poor judgement in their relationship choices. Many victims become isolated and deprived of support when employers or friends withdraw after also being subjected to harassment or are cut off by the victim in order to protect them. Other tangible consequences include financial losses from quitting jobs, moving, and buying expensive security equipment in an attempt to gain privacy. Changing homes and jobs results in both material losses and loss of self-respect."
Surprisingly, verbal, psychological, and emotional abuse have the same effects as the physical variety [Psychology Today, September/October 2000 issue, p.24]. Abuse of all kinds also interferes with the victim's ability to work. Abrams and Robinson wrote this [in "Occupational Effects of Stalking", Can J Psychiatry 2002;47:468–472]:
"… (B)eing stalked by a former partner may affect a victim's ability to work in 3 ways. First, the stalking behaviours often interfere directly with the ability to get to work (for example, flattening tires or other methods of preventing leaving the home). Second, the workplace may become an unsafe location if the offender decides to appear. Third, the mental health effects of such trauma may result in forgetfulness, fatigue, lowered concentration, and disorganisation. These factors may lead to the loss of employment, with accompanying loss of income, security, and status."
Still, it is hard to generalise. Victims are not a uniform lot. In some cultures, abuse is commonplace and accepted as a legitimate mode of communication, a sign of love and caring, and a boost to the abuser's self-image. In such circumstances, the victim is likely to adopt the norms of society and avoid serious trauma.
(continued below)
---
This article appears in my book, "Malignant Self-love: Narcissism Revisited"
Click HERE to buy the print edition from Amazon (click HERE to buy a copy dedicated by the author)
Click HERE to buy the print edition from Barnes and Noble
Click HERE to buy the print edition from the publisher and receive a BONUS PACK
Click HERE to buy electronic books (e-books) and video lectures (DVDs) about narcissists, psychopaths, and abuse in relationships
Click HERE to buy the ENTIRE SERIES of sixteen electronic books (e-books) about narcissists, psychopaths, and abuse in relationships
Click HERE for SPECIAL OFFER 1 and HERE for SPECIAL OFFER 2
Follow me on Twitter, Facebook (my personal page or the book's), YouTube
---
Deliberate, cold-blooded, and premeditated torture has worse and longer-lasting effects than abuse meted out by the abuser in rage and loss of self-control. The existence of a loving and accepting social support network is another mitigating factor. Finally, the ability to express negative emotions safely and to cope with them constructively is crucial to healing.
Typically, by the time the abuse reaches critical and all-pervasive proportions, the abuser had already, spider-like, isolated his victim from family, friends, and colleagues. She is catapulted into a nether land, cult-like setting where reality itself dissolves into a continuing nightmare.
When she emerges on the other end of this wormhole, the abused woman (or, more rarely, man) feels helpless, self-doubting, worthless, stupid, and a guilty failure for having botched her relationship and "abandoned" her "family". In an effort to regain perspective and avoid embarrassment, the victim denies the abuse or minimises it.
No wonder that survivors of abuse tend to be clinically depressed, neglect their health and personal appearance, and succumb to boredom, rage, and impatience. Many end up abusing prescription drugs or drinking or otherwise behaving recklessly.
Some victims even develop Post-Traumatic Stress Disorder (PTSD).
We tackle this mental health condition in our next article.
---
Also Read
"Trauma Bonding" and the Psychology of Torture
---
RESOURCES
The Toxic Relationships Study List
Spousal (Domestic) Abuse and Violence - Articles Menu
Verbal and Emotional Abuse - Articles Menu
HealthyPlace Narcissistic Personality Disorder (NPD) Community
Case Studies on the Psychopath and Narcissist Survivors Support Group
Ask Sam on the Psychopath and Narcissist Survivors Support Group
Ask Sam on the Narcissistic Abuse Recovery Forum
Domestic Violence and Abuse statistics - Click here
---
Copyright Notice
This material is copyrighted. Free, unrestricted use is allowed on a non commercial basis.
The author's name and a link to this Website must be incorporated in any reproduction of the material for any use and by any means.
---
Frequently Asked Questions about Pathological Narcissism
Excerpts from the Archive of the Narcissism List
After the Rain - How the West Lost the East
Internet: A Medium or a Message?
Write to me: palma@unet.com.mk or narcissisticabuse-owner@yahoogroups.com