Coping with Your Stalker
By: Dr. Sam Vaknin
Click HERE to Watch the Video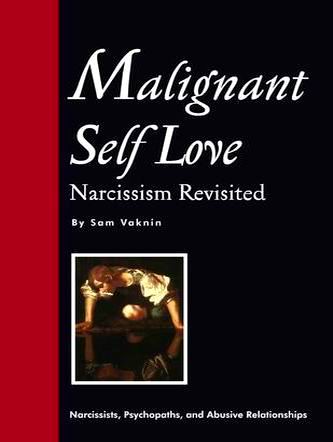 Malignant Self Love - Buy the Book - Click HERE!!!
Relationships with Abusive Narcissists - Buy the e-Books - Click HERE!!!
---
READ THIS: Scroll down to review a complete list of the articles - Click on the blue-coloured text!
Bookmark this Page - and SHARE IT with Others!
---
---
Abuse by proxy continues long after the relationship is officially over (at least as far as you are concerned). The majority of abusers get the message, however belatedly and reluctantly. Others – more vindictive and obsessed – continue to haunt their ex-spouses for years to come. These are the stalkers.
Most stalkers are what Zona (1993) and Geberth (1992) call "Simple Obsessional" or, as Mullen and Pathe put it (1999) – "Rejected". They stalk their prey as a way of maintaining the dissolved relationship (at least in their diseased minds). They seek to "punish" their quarry for refusing to collaborate in the charade and for resisting their unwanted and ominous attentions.
Such stalkers come from all walks of life and cut across social, racial, gender, and cultural barriers. They usually suffer from one or more (comorbid) personality disorders. They may have anger management or emotional problems and they usually abuse drugs or alcohol. Stalkers are typically lonely, violent, and intermittently unemployed – but they are rarely full fledged criminals.
Contrary to myths perpetrated by the mass media, studies show that most stalkers are men, have high IQ's, advanced degrees, and are middle aged (Meloy and Gothard, 1995; and Morrison, 2001).
Rejected stalkers are intrusive and inordinately persistent. They recognize no boundaries – personal or legal. They honor to "contracts" and they pursue their target for years. They interpret rejection as a sign of the victim's continued interest and obsession with them. They are, therefore, impossible to get rid of. Many of them are narcissists and, thus, lack empathy, feel omnipotent and immune to the consequences of their actions.
(continued below)
---
This article appears in my book, "Malignant Self-love: Narcissism Revisited"
Click HERE to buy the print edition from Amazon (click HERE to buy a copy dedicated by the author)
Click HERE to buy the print edition from Barnes and Noble
Click HERE to buy the print edition from the publisher and receive a BONUS PACK
Click HERE to buy electronic books (e-books) and video lectures (DVDs) about narcissists, psychopaths, and abuse in relationships
Click HERE to buy the ENTIRE SERIES of sixteen electronic books (e-books) about narcissists, psychopaths, and abuse in relationships
Click HERE for SPECIAL OFFER 1 and HERE for SPECIAL OFFER 2
Follow me on Twitter, Facebook (my personal page or the book's), YouTube
---
Even so, some stalkers are possessed of an uncanny ability to psychologically penetrate others. Often, this gift is abused and put at the service of their control freakery and sadism. Stalking – and the ability to "mete out justice" makes them feel powerful and vindicated. When arrested, they often act the victim and attribute their actions to self-defence and "righting wrongs".
Stalkers are emotionally labile and present with rigid and infantile (primitive) defense mechanisms: splitting, projection, projective identification, denial, intellectualization, and narcissism. They devalue and dehumanize their victims and thus "justify" the harassment or diminish it. From here, it is only one step to violent conduct.
This is the topic of our next article.
Additional Reading
Coping with Four Types of Stalkers - Click HERE!
Zona M.A., Sharma K.K., and Lane J.: A Comparative Study of Erotomanic and Obsessional Subjects in a Forensic Sample, Journal of Forensic Sciences, July 1993, 38(4):894-903.
Vernon Geberth: Stalkers, Law and Order, October 1992, 40: 138-140
Mullen P.E., Pathé M., Purcell R., and Stuart G.W.: Study of Stalkers, American Journal of Psychiatry, August 1999, 156(8):1244-9
Meloy J.R., Gothard S.: Demographic and Clinical Comparison of Obsessional Followers and Offenders with Mental Disorders, American Journal of Psychiatry, February 1995, 152(2):258-63.
Morrison K.A.: Predicting Violent Behavior in Stalkers - A Preliminary Investigation of Canadian Cases in Criminal Harassment, Journal of Forensic Sciences, November 2001, 46(6):1403-10.
---
RESOURCES
How to Spot an Abuser on Your First Date
The Toxic Relationships Study List
"Trauma Bonding" and the Psychology of Torture
Traumas as Social Interactions
Spousal (Domestic) Abuse and Violence
Verbal and Emotional Abuse - Articles Menu
HealthyPlace Narcissistic Personality Disorder (NPD) Community
Case Studies on the Psychopath and Narcissist Survivors Support Group
Ask Sam on the Psychopath and Narcissist Survivors Support Group
Ask Sam on the Narcissistic Abuse Recovery Forum
Domestic Violence and Abuse statistics - Click here
---
Copyright Notice
This material is copyrighted. Free, unrestricted use is allowed on a non commercial basis.
The author's name and a link to this Website must be incorporated in any reproduction of the material for any use and by any means.
---
Frequently Asked Questions about Pathological Narcissism
Excerpts from the Archive of the Narcissism List
After the Rain - How the West Lost the East
Internet: A Medium or a Message?
Write to me: palma@unet.com.mk or narcissisticabuse-owner@yahoogroups.com