Masochistic Personality Disorder
"Personality Disorders Revisited" (450 pages e-book) - click HERE to purchase!
By: Dr. Sam Vaknin
Click HERE to Watch the Video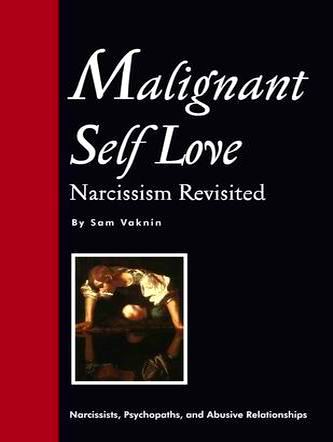 Malignant Self Love - Buy the Book - Click HERE!!!
Relationships with Abusive Narcissists - Buy the e-Books - Click HERE!!!
---
READ THIS: Scroll down to review a complete list of the articles - Click on the blue-coloured text!
Bookmark this Page - and SHARE IT with Others!
---
---
The Masochistic personality disorder made its last appearance in the DSM III-TR and was removed from the DSM IV and from its text revision, the DSM IV-TR. Some scholars, notably Theodore Millon, regard its removal as a mistake and lobby for its reinstatement in future editions of the DSM.

The masochist has been taught from an early age to hate herself and consider herself unworthy of love and worthless as a person. Consequently, he or she is prone to self-destructive, punishing, and self-defeating behaviors. Though capable of pleasure and possessed of social skills, the masochist avoids or undermines pleasurable experiences. He does not admit to enjoying himself, seeks suffering, pain, and hurt in relationships and situations, rejects help and resents those who offer it. She actively renders futile attempts to assist or ameliorate or mitigate or solve her problems and predicaments.

These self-penalizing behaviors are self-purging: they intend to relieve the masochist of overwhelming, pent-up anxiety. The masochist's conduct is equally aimed at avoiding intimacy and its benefits: companionship and support.
(continued below)
---
This article appears in my book "Malignant Self-love: Narcissism Revisited"
Click HERE to buy the print edition from Amazon (click HERE to buy a copy dedicated by the author)
Click HERE to buy the print edition from Barnes and Noble
Click HERE to buy the print edition from the publisher and receive a BONUS PACK
Click HERE to buy electronic books (e-books) and video lectures (DVDs) about narcissists, psychopaths, and abuse in relationships
Click HERE to buy the ENTIRE SERIES of sixteen electronic books (e-books) about narcissists, psychopaths, and abuse in relationships
Click HERE for SPECIAL OFFER 1 and HERE for SPECIAL OFFER 2
Follow me on Twitter, Facebook (my personal page or the book's), YouTube
---
Masochists tend to choose people and circumstances that inevitably and predictably lead to failure, disillusionment, disappointment, and mistreatment. Conversely, they tend to avoid relationships, interactions, and circumstances that are likely to result in success or gratification. They reject, disdain, or even suspect people who consistently treat them well. Masochists find caring, loving persons sexually unattractive.

The masochist typically adopts unrealistic goals and thus guarantees underachievement. Masochists routinely fail at mundane tasks, even when these are crucial to their own advancement and personal objectives and even when they adequately carry out similar assignments on behalf of others. The DSM gives this example: "helps fellow students write papers, but is unable to write his or her own".

When the masochist fails at these attempts at self-sabotage, he reacts with rage, depression, and guilt. She is likely to "compensate" for her undesired accomplishments and happiness by having an accident or engaging in behaviors that produce abandonment, frustration, hurt, illness, or physical pain. Some masochists make harmful self-sacrifices, uncalled for by the situation and unwanted by the intended beneficiaries or recipients.

The projective identification defense mechanism is frequently at play. The masochist deliberately provokes, solicits, and incites angry, disparaging, and rejecting responses from others in order to feel on "familiar territory": humiliated, defeated, devastated, and hurt.

Self-defeating and Self-destructive behaviors - click HERE!

The Delusional Way Out - click on HERE!
Read Notes from the therapy of a Masochistic Patient
---
Many additional Frequently Asked Questions (FAQs) about Personality Disorders - click HERE!
---
Copyright Notice
This material is copyrighted. Free, unrestricted use is allowed on a non commercial basis.
The author's name and a link to this Website must be incorporated in any reproduction of the material for any use and by any means.
---
Malignant Self Love - Narcissism Revisited
Frequently Asked Questions about Pathological Narcissism
Excerpts from the Archive of the Narcissism List
World in Conflict and Transition
Internet: A Medium or a Message?
Write to me: palma@unet.com.mk or narcissisticabuse-owner@yahoogroups.com