Narcissists, Sex and Fidelity: The Somatic and the Cerebral Narcissist
Frequently Asked Question # 29
Cerebral narcissists use their intellect, intelligence, and verbal skills to derive narcissistic supply. Somatic narcissists leverage their body and sexuality to secure an uninterrupted flow of supply.
Each narcissist is either predominantly cerebral or somatic, but there is no type-constancy: the dominant type gives way to the recessive type in times of scarce, deficient, or absent supply
(for instance: following a major life crisis).
Read more and buy the book(s)
Click HERE, HERE, HERE, and HERE to watch the videos
Frequently Asked Question # 29
By: Dr. Sam Vaknin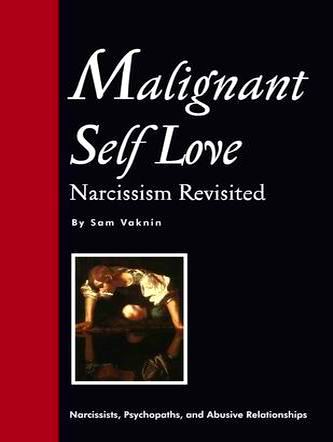 Malignant Self Love - Buy the Book - Click HERE!!!
Relationships with Abusive Narcissists - Buy the e-Books - Click HERE!!!
---
READ THIS: Scroll down to review a complete list of the articles - Click on the blue-coloured text!
Bookmark this Page - and SHARE IT with Others!
---
---
Are narcissists mostly hyperactive or hypoactive sexually and to what extent are they likely to be unfaithful in marriage?
Answer:
Broadly speaking, there are two types of narcissists, loosely corresponding to the two categories mentioned in the question: the somatic narcissist and the cerebral narcissist. The cerebral narcissist reduces people to functions and the somatic narcissist regards and treats them as objects.
The somatic narcissist derives narcissistic supply from other people's reactions to his body: sexual conquests, bodybuilding, youthfulness, athletic prowess, competence in outdoor activities, or mere preening and titivating. Cerebral narcissists flaunt their intellect, intelligence, and knowledge to secure attention and adulation.
Whether one becomes a somatic narcissist or a cerebral one depends on one's upbringing as a child. If the infant is taught that it can secure the parents' love only by being intellectually brilliant - it becomes a cerebral narcissist. If it is conditioned to excel in sports or outdoor activities and to compete for sexual conquests as a prerequisite for being loved, it becomes somatic.
Narcissists are misogynists. They hold women in contempt, they loathe and fear them. They seek to torment and frustrate them (either by debasing them sexually - or by withholding sex from them). They harbor ambiguous feelings towards the sexual act.
The somatic narcissist uses sex to "conquer" and "secure" new sources of narcissistic supply. Consequently, the somatic rarely gets emotionally-involved with his "targets". His is a mechanical act, devoid of intimacy and commitment. The cerebral narcissist feels that sex is demeaning and degrading. Acting on one's sex drive is a primitive, basic, and common impulse. The cerebral narcissist convinces himself that he is above all that, endowed as he is with superior intelligence and superhuman self-control.
Still, sex for both types of narcissists is an instrument designed to increase the number of Sources of Narcissistic Supply. If it happens to be the most efficient weapon in the narcissist's arsenal, he makes profligate use of it. In other words: if the narcissist cannot obtain adoration, admiration, approval, applause, or any other kind of attention by other means (e.g., intellectually) – he resorts to sex.
He then becomes a satyr (or a nymphomaniac): indiscriminately engages in sex with multiple partners. His sex partners are considered by him to be objects - sources of Narcissistic Supply. It is through the processes of successful seduction and sexual conquest that the narcissist derives his badly needed narcissistic "fix".
The narcissist is likely to perfect his techniques of courting and regard his sexual exploits as a form of art. He usually exposes this side of him – in great detail – to others, to an audience, expecting to win their approval and admiration. Because the Narcissistic Supply in his case is in the very act of conquest and (what he perceives to be) subordination – the narcissist is forced to hop from one partner to another.
Some narcissists prefer "complicated" situations. If men – they prefer virgins, married women, frigid or lesbian women, etc. The more "difficult" the target – the more rewarding the narcissistic outcome. Such a narcissist may be married, but he does not regard his extra-marital affairs as either immoral or a breach of any explicit or implicit contract between him and his spouse.
He keeps explaining to anyone who cares to listen that his other sexual partners are nothing to him, meaningless, that he is merely taking advantage of them and that they do not constitute a threat and should not be taken seriously by his spouse. In his mind a clear separation exists between the honest "woman of his life" (really, a saint) and the whores that he is having sex with.
With the exception of the meaningful women in his life, he tends to view all females in a bad light. His behaviour, thus, achieves a dual purpose: securing Narcissistic Supply, on the one hand – and re-enacting old, unresolved conflicts and traumas (abandonment by Primary Objects and the Oedipal conflict, for instance).
When inevitably abandoned by his spouse – the narcissist is veritably shocked and hurt. This is the sort of crisis, which might drive him to psychotherapy. Still, deep inside, he feels compelled to continue to pursue precisely the same path. His abandonment is cathartic, purifying. Following a period of deep depression and suicidal ideation – the narcissist is likely to feel cleansed, invigorated, unshackled, ready for the next round of hunting.
But there is another type of narcissist. He also has bouts of sexual hyperactivity in which he trades sexual partners and tends to regard them as objects. However, with him, this is a secondary behaviour. It appears mainly after major narcissistic traumas and crises.
A painful divorce, a devastating personal financial upheaval – and this type of narcissist adopts the view that the "old" (intellectual) solutions do not work anymore. He frantically gropes and searches for new ways to attract attention, to restore his False Ego (=his grandiosity) and to secure a subsistence level of Narcissistic Supply.
Sex is handy and is a great source of the right kind of supply: it is immediate, sexual partners are interchangeable, the solution is comprehensive (it encompasses all the aspects of the narcissist's being), natural, highly charged, adventurous, and pleasurable. Thus, following a life crisis, the cerebral narcissist is likely to be deeply involved in sexual activities – very frequently and almost to the exclusion of all other matters.
(continued below)
---
This article appears in my book "Malignant Self-love: Narcissism Revisited"
Click HERE to buy the print edition from Amazon (click HERE to buy a copy dedicated by the author)
Click HERE to buy the print edition from Barnes and Noble
Click HERE to buy the print edition from the publisher and receive a BONUS PACK
Click HERE to buy electronic books (e-books) and video lectures (DVDs) about narcissists, psychopaths, and abuse in relationships
Click HERE to buy the ENTIRE SERIES of sixteen electronic books (e-books) about narcissists, psychopaths, and abuse in relationships
Click HERE for SPECIAL OFFER 1 and HERE for SPECIAL OFFER 2
Follow me on Twitter, Facebook (my personal page or the book's), YouTube
---
However, as the memories of the crisis fade, as the narcissistic wounds heal, as the Narcissistic Cycle re-commences and the balance is restored – this second type of narcissist reveals his true colours. He abruptly loses interest in sex and in all his sexual partners. The frequency of his sexual activities deteriorates from a few times a day – to a few times a year. He reverts to intellectual pursuits, sports, politics, voluntary activities – anything but sex.
The cerebral narcissist renders himself unattractive to his partners by gaining weight, neglecting his body and personal hygiene, not attending to his rotting teeth and crumbling health, and dressing shabbily. This self-inflicted and ostentatious abuse has the effect of bringing sexual and physical intimacy to a screeching halt and forcing his mate or spouse into patterns of behavior and lifestyle alien to her nature: if she is a codependent and fears abandonment she abjures sex altogether (becomes asexual) and if she is not, she is forced into adultery and promiscuity.
This kind of narcissist is afraid of encounters with the opposite sex and is even more afraid of emotional involvement or commitment that he fancies himself prone to develop following a sexual encounter. In general, such a narcissist withdraws not only sexually – but also emotionally. If married – he loses all overt interest in his spouse, sexual or otherwise. He confines himself to his world and makes sure that he is sufficiently busy to preclude any interaction with his nearest (and supposedly dearest).
He becomes completely immersed in "big projects", lifelong plans, a vision, or a cause – all very rewarding narcissistically and all very demanding and time consuming. In such circumstances, sex inevitably becomes an obligation, a necessity, or a maintenance chore reluctantly undertaken to preserve his sources of supply (his family or household).
The cerebral narcissist does not enjoy sex and by far prefers masturbation or "objective", emotionless sex, like consuming porn, or, much more rarely, group sex, or visiting prostitutes. "I practice the safest and most thrilling sex there is: masturbating to pornography". Actually, he uses his mate or spouse as an "alibi", a shield against the attentions of other women, an insurance policy which preserves his virile image while making it socially and morally commendable for him to avoid any intimate or sexual contact with others.
Ostentatiously ignoring women other than his wife (a form of aggression I call "ostentatious fidelity") he feels righteous in saying: "I am a faithful husband". Women who show interest in or approach him are, by definition, immoral sluttish whores for attempting to break up his marriage. At the same time, he feels hostility towards his spouse for ostensibly preventing him from freely expressing his sexuality, for isolating him from carnal pleasures.
The narcissist's thwarted logic goes something like this: "I am married/attached to this woman. Therefore, I am not allowed to be in any form of contact with other women which might be interpreted as more than casual or businesslike. This is why I refrain from having anything to do with women – because I am being faithful, as opposed to most other immoral men.
However, I do not like this situation. I envy my free peers. They can have as much sex and romance as they want to – while I am confined to this marriage, chained by my wife, my freedom curbed. I am angry at her and I will punish her by abstaining from having sex with her."
To be celibate, rationalizes the cerebral narcissist, is to be more human, not less so. To abstain from sex is to set oneself apart from the base desires of the animal kingdom. Many religions proffer the view that celibacy is a requisite step on the path to enlightenment.
Thus frustrated, the narcissist minimises all manner of intercourse with his close circle (spouse, children, parents, siblings, very intimate friends): sexual, verbal, or emotional. He limits himself to the rawest exchanges of information and isolates himself socially.
His reclusion insures against a future hurt and avoids the intimacy that he so dreads. But, again, this way he also secures abandonment and the replay of old, unresolved, conflicts. Finally, he really is left alone by everyone, with no Secondary Sources of Supply.
In his quest to find new sources, he again embarks on ego-mending bouts of sex, followed by the selection of a spouse or a mate (a Secondary Narcissistic Supply Source). Then the cycle re-commence: a sharp drop in sexual activity, emotional absence and cruel detachment leading to abandonment.
The cerebral narcissist is mostly sexually loyal to his spouse. He alternates between what appears to be hyper-sexuality and asexuality (really, forcefully repressed sexuality). In the second phase, he feels no sexual urges, bar the most basic. He is, therefore, not compelled to "cheat" upon his mate, betray her, or violate the marital vows. He is much more interested in preventing a worrisome dwindling of the kind of Narcissistic Supply that really matters. Sex, he says to himself, contentedly, is for those who can do no better.
This is not affected abstinence or grandiose celibacy, though. The repressed libido all but vanishes and, in this sense, the cerebral narcissist is intermittently asexual, albeit never sex-averse. Many cerebral narcissists are also schizoids and avoid gratuitous social contact as they do sexual congress.
Both types of avoidance have similar psychodynamic roots: fear of loss of control and of escalation as others are seen to dictate the frequency, intensity, and details of sexual or social encounters (the cerebral narcissist may end up being bored out of his mind, or compelled to participate in activities he would rather avoid) and the perception of sex and gregariousness as breaches of personal boundaries: sexual or social partners know no limits and are liable to be all over the cerebral narcissist if he allows them, driving him to defend his privacy aggressively and unpleasantly.
Paradoxically, once forced into the action, the cerebral narcissist finds both sex and socializing to be pleasurable and enjoyable activities. But, he simply lacks the willpower and predilection to initiate or to participate in these interactions unless absolutely coerced to.
Somatic narcissists tend to verbal exhibitionism. They tend to brag in graphic details about their conquests and exploits. In extreme cases, they might introduce "live witnesses" and revert to total, classical exhibitionism. This sits well with their tendency to "objectify" their sexual partners, to engage in emotionally-neutral sex (group sex, for instance) and to indulge in autoerotic sex.
The exhibitionist sees himself reflected in the eyes of the beholders. This constitutes the main sexual stimulus, this is what turns him on. This outside "look" is also what defines the narcissist. There is bound to be a connection. One (the exhibitionist) may be the culmination, the "pure case" of the other (the narcissist).
Narcissists cheat on their spouses, commit adultery and have extramarital affairs and liaisons for a variety of reasons which reflect disparate psychodynamic processes:
1. In the quest for narcissistic supply, the somatic narcissist resorts to serial sexual conquests.
2. Narcissists are easily bored (they have a low boredom threshold) and they have a low tolerance for boredom. Sexual dalliances alleviate this nagging and frustrating ennui. The quest for novelty, diversions, and thrills – a vacation from his own life - is combined with a journey of self-exploration and discovery that involves "filling in the gaps" in the narcissist's biography: a missed adolescence, an old flame, a new aspect of his personality.
3. Narcissists maintain an island and focus of stability in their life, but all the other dimensions of their existence are chaotic, unstable, and unpredictable. This "twister" formation serves many emotional needs which I expound upon elsewhere. Thus, a narcissist may be a model employee and pursue a career path over decades even as he cheats on his wife and fritters their savings away.
4. Narcissists feel superior and important and so entitled to be above the law and to engage in behaviors that are frowned upon and considered socially unacceptable in others. They reject and vehemently resent all limitations and conditions placed upon them by their partners. They act on their impulses and desires unencumbered by social conventions and strictures.
5. Marriage, monogamy, and child-bearing and rearing are common activities that characterize the average person. The narcissist feels robbed of his uniqueness by these pursuits and coerced into the relationship and into roles - such as a husband and a father - that reduce him to the lowest of common denominators. This narcissistic injury leads him to rebel and reassert his superiority and specialness by maintaining extramarital affairs.
6. Narcissists are control freaks. Having a relationship implies a give-and-take and a train of compromises which the narcissist acutely interprets to mean a loss of control over his life. To reassert control, the narcissist initiates other relationships in which he dictates the terms of engagement (love affairs).
7. Narcissists are terrified of intimacy. Their behavior is best characterized as an approach-avoidance repetition compulsion. Adultery is an excellent tool in the attempt to retard intimacy and resort to a less threatening mode of interaction.
Narcissists typically claim that they have cheated in order to "put the spark back into the relationship (with the spouse or primary intimate partner.)" Of course, how exactly an act of betrayal and faithlessness can rekindle the ambers of a relationship founded initially on trust and sexual and emotional exclusivity is left conveniently unsaid.
In the wake of an affair, the narcissist possesses the perfect alibi: if he does try to revive his sex life with his spouse and fails, he can proudly say: "I left no stone unturned, I even went as far as cheating on my partner – all in order to resurrect our bond!" If he doesn't try to reanimate his sex life with his spouse, he turns it around and says: "This is proof that the relationship was doomed to start with and what I did was, therefore, not cheating. I was actually FORCED to seek sexual and emotional alternatives by the dead weight of this relationship."
Sexual Fantasies of Narcissists and Psychopaths
Click HERE to Watch the Video
Inevitably, the sexual fantasy life of narcissists and psychopaths reflects their psychodynamic landscape: their fear of intimacy, misogyny, control freakiness, auto-eroticism, latent sadism and masochism, problems of gender identity, and various sexual paraphilias.
Fantasies which reflect a fear of intimacy involve the aggressive or violent objectification of a faceless, nameless, and sometimes sexless person, often in impersonal, alien or foreign settings (example: narratives of rape.) These usually coalesce with misogynistic erotic storylines in which females are humiliated, coerced into hurtful submission, and subjected to violation and degradation by one or many. Where sadism-masochism, homosexuality, or sexual paraphilias such as pedophilia are present, they are injected into the fantasy and colour its composition and progression.
In his fantasies, the narcissist or psychopath is always in unmitigated control of the environment. The assemblages of bodies and limbs which populate his daydreams – his body included - are minutely choreographed to yield maximum titillation. He is like an exhibitionistic and voyeuristic porn director with an endless supply of well-endowed actors either cowed into compliance or craving it. Naturally, the narcissist's fantasies are devoid of any performance anxiety or of the need to reciprocate in the sex act by pleasing his anonymous and robotic partners.
Such imaginarium invariably leads to acts of self-stimulation, the ultimate manifestations of auto-eroticism. Even when the narcissist incorporates his real-life partner in his fantasies, he is bound to treat her as a mere prop, a body to masturbate with, in, or on, or an object to be "defiled" in acts such as group sex, swinging (wife-swapping), or outright sexual deviance (examples: urophilia, or coprophilia.) This crude and overt denigration serves to render her a "slut", or a "whore" in his mind, the kind of woman with whom he can have lustful, emotion-free sex. He reserves love, involvement, and intimacy to sexless "madonna"-type, sexually inaccessible or unattainable women, such as his mother.
The somatic narcissist's and psychopath's sexual promiscuity emerges from underlying problems in gender identity. Many of them are closet bisexuals, cross-dressers, and prone to paraphilias such as pedophilia, fetishism, and sexual sadism or masochism. Some of them try to act out their fantasies and get their partners to assume roles commensurate with their propensities and predilections, however outlandish, illegal, or extreme.
A useful test to tell apart healthy sexual fantasies from narcissistic ones is to pose the question: would you be equally satisfied having sex with a sophisticated inflatable robotic doll as with a flesh and blood partner? If the answer is "yes", then, in all likelihood, we are dealing with a narcissist or a psychopath.
Yet, these glimpses into the thwarted and the demented rarely go down well with their significant others. The narcissist's self-exposure often elicits reactions of horror, repulsion, and estrangement. No wonder most narcissists don't even bother to share their fantasies with their "loved" ones. The cerebral narcissist merely retreats to sexual abstinence punctuated by compulsive, porn-fuelled masturbation. The somatic narcissist compulsively hunts for new feminine prey to sacrifice on the insatiable altar of his False Self.
Sin of self-love possesseth all mine eye
And all my soul and all my every part;
And for this sin there is no remedy,
It is so grounded inward in my heart.
Methinks no face so gracious is as mine,
No shape so true, no truth of such account;
And for myself mine own worth do define,
As I all other in all worths surmount.
But when my glass shows me myself indeed,
Beated and chopp'd with tann'd antiquity,
Mine own self-love quite contrary I read;
Self so self-loving were iniquity.
'Tis thee, myself, that for myself I praise,
Painting my age with beauty of thy days.
(Sonnet 62, William Shakespeare)
Interview granted to Vancouver Province, November 2014
Q. Why does narcissism appear with sexual paraphilias?
A. Narcissists are addicted to narcissistic supply: attention, whether positive (adulation, admiration, affirmation), or negative (being feared or hated.) They use narcissistic supply to regulate their labile (volatile) sense of self-worth. Somatic narcissists derive narcissistic supply from their body and, mainly, from their self-imputed sexual prowess, sexual conquests, and sexual exploits. They objectify their sexual partners: they treat them as mere gadgets to masturbate with and over, as glorified inflatable dolls. In truth, the somatic narcissist is auto-erotic: he makes love to himself via the agency of another person's body. Narcissists are the products of arrested development: mentally, they are children. Consequently, in the sexual act, the partner is a toy: devoid of autonomous existence, age, personal history, boundaries, needs, wishes, or fears. The narcissist plays with his newfound toy: he rattles it, takes it apart, experiments with it, releases aggression, or relates only to parts of it. These sexual behaviors are known as paraphilias.
Q. Would forms of sado-masochist, dominant-submissive sex be a manifestation of narcissism?
A. Not necessarily and not exclusively. True, many narcissists are also sadists. A minority of them are sexual sadists. Still, strictly speaking, sexual sadism is not a psychodynamic dimension of pathological narcissism. Narcissists nurture grandiose fantasies of omnipotence, but these narcissistic power trips, power plays, and mind games rarely manifest sexually and, when they do, they rarely involve or invoke classic sexual sadism.
Q. Would a pathological narcissist think in his mind that it's okay dominate or injure another person during sex?
A. Narcissists rationalize and intellectualize their misconduct. A narcissist who is inclined to sexual sadism will construct an elaborate narrative to justify his misbehaviour and render it ineluctable, necessary, and even beneficial to the victim! Narcissists are ego-syntonic: they feel good about who they are and how they comport themselves. They firmly believe that their choices are both virtuous and wise.
Q. Do pathological narcissists typically think of themselves as a victim when things go wrong?
A. Paradoxically and ironically, narcissists have an external locus of control (aka alloplastic defenses): they blame other people and the world at large for their failures, misjudgements, defeats, misfortune, bad choices, and misconduct. The narcissist is very likely to feel that he is the victim of both circumstances and human envy-driven malice beyond his control. Most narcissists also harbor persecutory delusions: they are paranoid and ascribe their downfall to vast, elaborate, and intricate conspiracies.
---
Also Read
Narcissists - Stable or Unstable?
Homosexual and Transsexual Narcissists
Psychosexual Stages of Development
The Two Loves of the Narcissist
Portrait of the Narcissist as a Young Man
That Thing Between a Man and a Woman
Narcissists, Psychopaths, Sex, and Marital Fidelity
The Natural Roots of Sexuality
Ethical Relativism and Absolute Taboos
---
Copyright Notice
This material is copyrighted. Free, unrestricted use is allowed on a non commercial basis.
The author's name and a link to this Website must be incorporated in any reproduction of the material for any use and by any means.
---
Excerpts from Archives of the Narcissism List
Internet: A Medium or a Message?
Write to me: palma@unet.com.mk or narcissisticabuse-owner@yahoogroups.com