Physique Dysmorphique: Narcissism and Body Dysmorphic Disorders
By: Dr. Sam Vaknin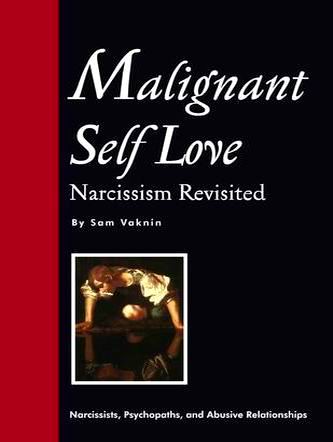 Malignant Self Love - Buy the Book - Click HERE!!!
Relationships with Abusive Narcissists - Buy the e-Books - Click HERE!!!
---
READ THIS: Scroll down to review a complete list of the articles - Click on the blue-coloured text!
Bookmark this Page - and SHARE IT with Others!
---
---
For most of my childhood and adolescence I believed that I had an enormous, elephantine skull. I didn't. Actually, I am told that my head is unusually small in comparison to my body. This is especially true after I put on another 20 kilos in weight.
So, why was I wrong about the size of my head for such a long and critical period of my life?
I am a cerebral narcissist. I derive my Narcissistic Supply from people's reactions to my intellectual achievements - real or fictitious. No wonder that I exaggerated the dimensions of the site and exclusive source of my life sustaining gratification. Children draw adults as giants. Budding cerebral narcissists misconstrue the size of their skulls.
Possessing a distorted physical self-image is called a Body Dysmorphic Disorder. All narcissists have it to some degree. Somatic narcissists are especially prone to misjudge their bodies - either positively or negatively. They believe themselves to be physically irresistible, exuding sex and energy, statuesquely shaped, and, in general, stunning hunks. This grandiose self-image rarely corresponds with reality, though.
Aware of this, the somatic narcissist dedicates inordinate amounts of time and effort to body building, exercising, mastering sexual advances and foreplay and the intricacies of the coital act itself. To enhance his belief system, the somatic narcissist co-opts others by forcing them to compliment his build, shape, constitution, health, sexual prowess, physical regime and attractiveness. The somatic narcissist is a compulsive consumer of "body complements or extensions" - objects that he thinks increase his attraction, irresistibility, appeal, and the value of his propositions. Fancy cars, flashy clothing, sumptuous residences, first class flights, luxury hotels, platinum credit cards, lavish parties, name-dropping, celebrity "friends", hi-tech gadgetry - all serve to enhance the narcissist's self-image and to bolster his grandiose fantasies.
(continued below)
---
This article appears in my book, "Malignant Self-love: Narcissism Revisited"
Click HERE to buy the print edition from Amazon (click HERE to buy a copy dedicated by the author)
Click HERE to buy the print edition from Barnes and Noble
Click HERE to buy the print edition from the publisher and receive a BONUS PACK
Click HERE to buy electronic books (e-books) and video lectures (DVDs) about narcissists, psychopaths, and abuse in relationships
Click HERE to buy the ENTIRE SERIES of sixteen electronic books (e-books) about narcissists, psychopaths, and abuse in relationships
Click HERE for SPECIAL OFFER 1 and HERE for SPECIAL OFFER 2
Follow me on Twitter, Facebook (my personal page or the book's), YouTube
---
Thus, this positive Dysmorphic Disorder serves to elicit Narcissistic Supply and buttress a distorted, unreal, self-image. But it is also a control mechanism. It allows the narcissist's False Self to manipulate both the narcissist and his human environment. It is as though by morphing his body - the narcissist moulds and designs his world, his nearest and dearest, his self in flux, his projected image and the reactions to it. By lying about his body, his health, his sex appeal, his longevity, his possessions (his bodily extensions), his sexual prowess, his attractiveness, his irresistibility, his friends and lovers, adventures and affairs - the narcissist transforms the REAL world. To him, the REAL world - is how people PERCEIVE him to be. By changing their perceptions, by indoctrinating and "brainwashing" them - the narcissist secures a Pathological Narcissistic Space in which his Self False can thrive, fully nourished.
This phenomenon is not limited to the somatic narcissist. The cerebral narcissist also deforms the true image of his body in his mind. He may exaggerate the dimensions of his head, the height of his forehead, or the length of his (sensitive) fingers. He may attribute to himself ailments and syndromes typical of high powered intellectuals - consumption (tuberculosis), tendonitis, headaches. The cerebral narcissist almost always lies about his IQ, his mental capacities, his skills. He tends to completely ignore and belittle the rest of his body. To him, it is a burdensome and unnecessary appendage. He may complain of the need to "maintain" the flesh and of the derided dependence of his magnificent brain on his abject and decaying body. "I would have willingly placed my brain in a laboratory jar, to be artificially nourished there, and given up my body" - they may say. They rarely exercise and regard with disdain the activities, proclivities, and predilections of the somatic narcissist. Physical pursuits - sex included - are perceived by them to be bestial, demeaning, common, wasteful, and meaningless. This is also a result of Body Dysmorphic Disorder. The cerebral narcissist underestimates the needs of his own body, misreads its signals, and ignores its processes. The body, to him, becomes abstract, a background noise, or nuisance.
Cerebral narcissists sometimes go through somatic phases and somatic narcissists - if capable - adopt cerebral behaviour patterns. Their attitudes change accordingly. The temporarily somatic narcissist suddenly begins to exercise, groom himself, seduce, and have creative and imaginative sex. The somatic made cerebral tries to read more, becomes contemplative and a-social, and consumes culture. But these are passing phases and the narcissist always reverts to true - or should I say, false - form.
Labile Body Dysmorphia or Labile Body Dysmorphic Disorder
Women (and, far less often, men) misjudge the shape of their bodies or parts of their anatomy and see them sometimes as flawed or defective and at other times as irresistibly perfect.

A client with Labile Body Dysmorphia will point at herself and say: "I could get any man I want". Minutes later she would complain bitterly about how repulsive and deformed her body is or had become.

This fluctuation between ego-dystonic self-loathing and ego-syntonic histrionic grandiosity are both facets of a severely impaired reality test.

The problem is that such delusionality often yields reckless and self-destructive behavior, disinhibition, substance abuse, eating disorders, and severe impairment of impulse control. The person afflicted with Labile Body Dysmorphic Disorder seeks to affirm her fantastically grandiose view of her body via unbridled promiscuity.

These risky choices often land her in hot water, endanger her, and profoundly affect her relationships with nearest, dearest, and loved ones.
---
Copyright Notice
This material is copyrighted. Free, unrestricted use is allowed on a non commercial basis.
The author's name and a link to this Website must be incorporated in any reproduction of the material for any use and by any means.
---
Frequently Asked Questions about Pathological Narcissism
Excerpts from the Archive of the Narcissism List
After the Rain - How the West Lost the East
Internet: A Medium or a Message?
Write to me: palma@unet.com.mk or narcissisticabuse-owner@yahoogroups.com