The Relief of Being Abandoned
By: Dr. Sam Vaknin
Click HERE to Watch the Video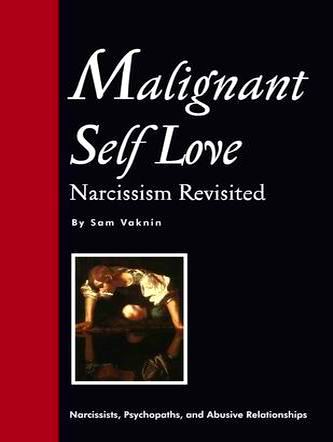 Malignant Self Love - Buy the Book - Click HERE!!!
Relationships with Abusive Narcissists - Buy the e-Books - Click HERE!!!
---
READ THIS: Scroll down to review a complete list of the articles - Click on the blue-coloured text!
Bookmark this Page - and SHARE IT with Others!
---
---
When the narcissist's spouse, girlfriend, or intimate partner gets to know him better, warts and all, she recoils and withdraws: first sexually and then, to avoid further hurt, emotionally. The narcissist acutely senses this withdrawal. To avoid a major narcissistic injury, he detaches from her abruptly, thus deceiving himself into believing that he was the one to has bailed out first and to have pre-emptively abandoned her. Thus, to his mind, he had maintained and still remains in control.
The dissolution of the abuser's marriage or other meaningful (romantic, business, or other) relationships constitutes a major life crisis and a scathing narcissistic injury. To soothe and salve the pain of disillusionment, he administers to his aching soul a mixture of lies, distortions, half-truths and outlandish interpretations of events around him.
All abusers present with rigid and infantile (primitive) defense mechanisms: splitting, projection, Projective Identification, denial, intellectualization, and narcissism. But some abusers go further and decompensate by resorting to self-delusion. Unable to face the dismal failures that they are, they partially withdraws from reality.
The Masochistic Avoidant Solution
The abuser directs some of this fury inwards, punishing himself for his "failure". This masochistic behavior has the added "benefit" of forcing the abuser's closest to assume the roles of dismayed spectators or of persecutors and thus, either way, to pay him the attention that he craves.
Self-administered punishment often manifests as self-handicapping masochism – a cop-out. By undermining his work, his relationships, and his efforts, the increasingly fragile abuser avoids additional criticism and censure (negative supply). Self-inflicted failure is the abuser's doing and thus proves that he is the master of his own fate.
Masochistic abusers keep finding themselves in self-defeating circumstances which render success impossible – and "an objective assessment of their performance improbable" (Millon, 2000). They act carelessly, withdraw in mid-effort, are constantly fatigued, bored, or disaffected and thus passive-aggressively sabotage their lives. Their suffering is defiant and by "deciding to abort" they reassert their omnipotence.
The abuser's pronounced and public misery and self-pity are compensatory and "reinforce (his) self-esteem against overwhelming convictions of worthlessness" (Millon, 2000). His tribulations and anguish render him, in his eyes, unique, saintly, virtuous, righteous, resilient, and significant. They are, in other words, self-generated Narcissistic Supply.
Thus, paradoxically, the worst his anguish and unhappiness, the more relieved and elated such an abuser feels! He is "liberated" and "unshackled" by his own self-initiated abandonment, he insists. He never really wanted this commitment, he tells any willing (or buttonholed) listener – and anyhow, the relationship was doomed from the beginning by the egregious excesses and exploits of his wife (or partner or friend or boss).
The Delusional Narrative Solution
This kind of abuser constructs a narrative in which he figures as the hero – brilliant, perfect, irresistibly handsome, destined for great things, entitled, powerful, wealthy, the centre of attention, etc. The bigger the strain on this delusional charade – the greater the gap between fantasy and reality – the more the delusion coalesces and solidifies.
Finally, if it is sufficiently protracted, it replaces reality and the abuser's reality test deteriorates. He withdraws his bridges and may become schizotypal, catatonic, or schizoid.
The Antisocial Solution
This type of abuser has a natural affinity with the criminal. His lack of empathy and compassion, his deficient social skills, his disregard for social laws and morals – now erupt and blossom. He becomes a full fledged antisocial (sociopath or psychopath). He ignores the wishes and needs of others, he breaks the law, he violates all rights – natural and legal, he holds people in contempt and disdain, he derides society and its codes, he punishes the ignorant ingrates – that, to his mind, drove him to this state – by acting criminally and by jeopardizing their safety, lives, or property.
The Paranoid Schizoid Solution
Another class of abuser develop persecutory delusions. He perceives slights and insults where none were intended. He becomes subject to ideas of reference (people are gossiping about him, mocking him, prying into his affairs, cracking his e-mail, etc.). He is convinced that he is the centre of malign and mal-intentioned attention. People are conspiring to humiliate him, punish him, abscond with his property, delude him, impoverish him, confine him physically or intellectually, censor him, impose on his time, force him to action (or to inaction), frighten him, coerce him, surround and besiege him, change his mind, part with his values, victimize or even murder him, and so on.
(continued below)
---
This article appears in my book, "Malignant Self-love: Narcissism Revisited"
Click HERE to buy the print edition from Amazon (click HERE to buy a copy dedicated by the author)
Click HERE to buy the print edition from Barnes and Noble
Click HERE to buy the print edition from the publisher and receive a BONUS PACK
Click HERE to buy electronic books (e-books) and video lectures (DVDs) about narcissists, psychopaths, and abuse in relationships
Click HERE to buy the ENTIRE SERIES of sixteen electronic books (e-books) about narcissists, psychopaths, and abuse in relationships
Click HERE for SPECIAL OFFER 1 and HERE for SPECIAL OFFER 2
Follow me on Twitter, Facebook (my personal page or the book's), YouTube
---
Some abusers withdraw completely from a world populated with such minacious and ominous objects (really projections of internal objects and processes). They avoid all social contact, except the most necessary. They refrain from meeting people, falling in love, having sex, talking to others, or even corresponding with them. In short: they become schizoids – not out of social shyness, but out of what they feel to be their choice. "This evil, hopeless world does not deserve me" – goes the inner refrain – "and I shall waste none of my time and resources on it."
The Paranoid Aggressive (Explosive) Solution
Other abusers who develop persecutory delusions, resort to an aggressive stance, a more violent resolution of their internal conflict. They become verbally, psychologically, situationally (and, more rarely, physically) abusive. They insult, castigate, chastise, berate, demean, and deride their nearest and dearest (often well wishers and loved ones). They explode in unprovoked displays of indignation, righteousness, condemnation, and blame. Theirs is an exegetic Bedlam. They interpret everything – even the most innocuous, inadvertent, and innocent comment – as designed to provoke and humiliate them. They sow fear, revulsion, hate, and malignant envy. They flail against the windmills of reality – a pathetic, forlorn, sight. But often they cause real and lasting damage – fortunately, mainly to themselves.
Additional Reading
Millon, Theodore and Davis, Roger – Personality Disorders in Modern Life, 2nd Edition – New York, John Wiley and Sons, 2000
This is the subject of the next article.
---
RESOURCES
How to Spot an Abuser on Your First Date
The Toxic Relationships Study List
"Trauma Bonding" and the Psychology of Torture
Traumas as Social Interactions
Spousal (Domestic) Abuse and Violence
Verbal and Emotional Abuse - Articles Menu
HealthyPlace Narcissistic Personality Disorder (NPD) Community
Case Studies on the Psychopath and Narcissist Survivors Support Group
Ask Sam on the Psychopath and Narcissist Survivors Support Group
Ask Sam on the Narcissistic Abuse Recovery Forum
Domestic Violence and Abuse statistics - Click here
---
Copyright Notice
This material is copyrighted. Free, unrestricted use is allowed on a non commercial basis.
The author's name and a link to this Website must be incorporated in any reproduction of the material for any use and by any means.
---
Frequently Asked Questions about Pathological Narcissism
Excerpts from the Archive of the Narcissism List
After the Rain - How the West Lost the East
Internet: A Medium or a Message?
Write to me: palma@unet.com.mk or narcissisticabuse-owner@yahoogroups.com