The PCM Trail
How the Womenfolk of Eastern Europe Hunt Foreigners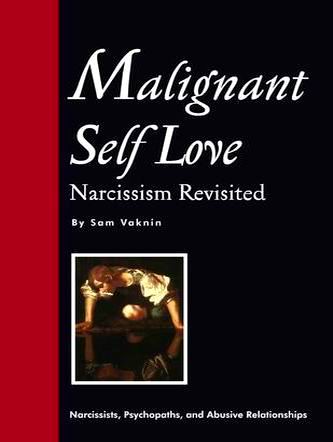 Malignant Self Love - Buy the Book - Click HERE!!!
Relationships with Abusive Narcissists - Buy the e-Books - Click HERE!!!
---
READ THIS: Scroll down to review a complete list of the articles - Click on the blue-coloured text!
Bookmark this Page - and SHARE IT with Others!
---
Written: February 8, 2000
It is a typical bar in a typical Balkan or East European country in a typical yellow haze, air-polluted, very late evening. The din of raucous and numbingly repetitive music reverberates through the smoke-enshrouded joint. It is an external pandemonium intended to silence internal ones and to obviate the silences of solitude. Sofas with shabby, mutilated upholstery in bordello scarlet. A dim, bawdy luminescence. Huntresses and prey study each other wearily over oily drinks. The former scantily clad in cheap imitations of haute couture, lips enclosed in heart shaped, provocative, lipstick, their make up invitingly gross. The latter - foreigners, owners of coveted passports, cars and money (PCM), a ticket out of hell, a path to paradise, a promise.
In the near and paranoiac past of most countries in transition, terror-filled xenophobia was both a wise survival tactic and an indoctrinated instinct. Self-insulated and psychotically suspicious regimes quarantined their populations and portrayed all foreigners as carriers of the malaise of social disintegration and the perpetrators of espionage and sabotage. In a classic cognitive dissonance, foreigners were denounced by the people and women who befriended them were pronounced whores. Only a select few could interact with the capitalistic plague and these were especially trained to prevent contagion.
These prejudices and perceptions changed fast with the dawn of the post transition purgatory. Economic collapse, massive unemployment, social dislocation, growing disparities between rich and poor, the educated and the unskilled - led to societies increasingly permeated by crime, drugs and prostitution. A grey cloud of hopelessness and neglect descended upon vast territories populated by zombie-like herds of people, eyes with extinguished light, adrift in the uncharted waters of a new, ominous reality. The physical deterioration of infrastructure and public services reflected the inner state of its ever more desparate consumers. Venality erupted like a giant suppuration. Everything was on sale, especially one's self.
In this increasingly whorish atmosphere, the perception of foreigners was dramatically re-cast. With more of them around and with most of them on generous income - they constituted a tempting target, a prize, salvation embodied. Women everywhere made it a point to meet them, to work with them, to associate with them, to know them biblically and - above all other goals - to marry them and leave their country. All means justified these ends. Women studied foreign languages, applied to work for non-government organizations, hung out in the appropriate watering holes, learned to dress and talk assertively and to make their availability - their complete obtainability and accessibility - beyond doubt.
Some set about securing the desired trophy methodically and scientifically, calculating each step in a tortuous and highly competitive environment. They invested years in graduating from the right faculties and in mastering the right languages. They watched films intently, read books, clipped magazine articles, surfed the internet, questioned well-travelled relatives and acquaintances, emulated more senior and more seasoned stalkers. Others relied on their good looks, their make up, their ruthlessness, their promiscuousness, their connections, or the exotic allure of their very differentness.
But all of them pursued their prey doggedly and commitedly, with the quite perseverance and patience of the dejected, with the unflagging determination of the terminally ill in tracking a wonder drug. Often, they got pregnant, which in many local cultures would have brought on a marriage. Sometimes, they got raped, or dumped, or worse. But none of these dissuaded them - such was the ejecting power of the wretchedness of their lives. They knew that the foreigner they aspire to acquire will finally go away and carry them with him, a (sometimes white) knight on a shining vehicle. Vehemently committed to securing the future of their children and the present of their extended family - they ploughed on, ignoring diversions, never digressing, never wavering in the face of setbacks and defeats.
Some of them grew old and bitter in their refusal to countenance a local, inferior, brand of husband. It time they so identified with their purported quarry - that they held their own kind in contempt. They disdained their kin, derided their customs, haughtily dismissed their own culture as backward and oppressive, worthy only of discarding. In their unmitigated effort to be worthy of their future saviours, they disowned their very selves, their society, their upbringing, their mores and their relations. Thus uprooted, they lost both worlds - rejected by those they rejected so condescendingly as well as by foreign men who found them to be embarrassing, clunky imitations of B-movie characters.
But others went on to marry foreigners, to give birth to their children and, in time, to travel to far, affluent lands. They keep in touch, sending home photographs of sumptuous houses and shiny cars and of suburban lawns. From time to time, they wire some money or deliver gifts. They visit once or twice a year, clad in new, faddish clothes, their accents strangely inflected, their speech suffused by foreign words. They made it, the envy of their sisters, the objects of much adulation and emulation, lean and lustrous proofs that dreams come true. A sigh and then the chase goes on. Meticulous dressing, hours of make up, the right shine but not too vulgar, the flesh exposed but not repulsively, both offered and withdrawn, a little exercise of English and to the bar. The hunting grounds where smoke and alcohol and the occasional lascivious look or comment should do the trick. And often do.
---
Copyright Notice
This material is copyrighted. Free, unrestricted use is allowed on a non commercial basis.
The author's name and a link to this Website must be incorporated in any reproduction of the material for any use and by any means.
---
Internet: A Medium or a Message?
Malignant Self Love - Narcissism Revisited
Frequently Asked Questions about Narcissism
Write to me: palma@unet.com.mk or narcissisticabuse-owner@yahoogroups.com