The Depressive Narcissist
By: Dr. Sam Vaknin
Click HERE to view the video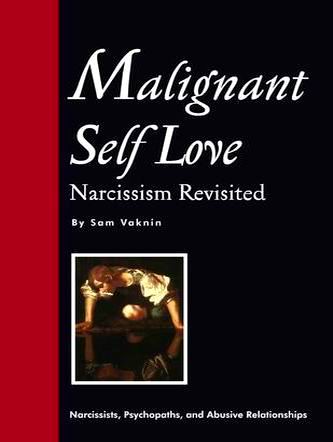 Malignant Self Love - Buy the Book - Click HERE!!!
Relationships with Abusive Narcissists - Buy the e-Books - Click HERE!!!
---
READ THIS: Scroll down to review a complete list of the articles - Click on the blue-coloured text!
Bookmark this Page - and SHARE IT with Others!
---
---
Many scholars consider pathological narcissism to be a form of depressive illness. This is the position of the authoritative magazine "Psychology Today". The life of the typical narcissist is, indeed, punctuated with recurrent bouts of dysphoria (ubiquitous sadness and hopelessness), anhedonia (loss of the ability to feel pleasure), and clinical forms of depression (cyclothymic, dysthymic, or other). This picture is further obfuscated by the frequent presence of mood disorders, such as Bipolar I (co-morbidity).
While the distinction between reactive (exogenous) and endogenous depression is obsolete, it is still useful in the context of narcissism. Narcissists react with depression not only to life crises but to fluctuations in Narcissistic Supply and to a circumstantial inability to express their dominant psychosexual type (cerebral or somatic).
The narcissist's personality is disorganised and precariously balanced. He regulates his sense of self-worth by consuming Narcissistic Supply from others. Any threat to the uninterrupted flow of said supply compromises his psychological integrity and his ability to function. It is perceived by the narcissist as life threatening.
Indeed, depression can be conceptualized as a reaction to the systemic failure of hitherto trustworthy and efficacious coping strategies, either owing to a seismic change in circumstances and the environment, or because of overwhelming new information.
I. Loss Induced Dysphoria
This is the narcissist's depressive reaction to the loss of one or more Sources of Narcissistic Supply – or to the disintegration of a Pathological Narcissistic Space (PN Space, his stalking or hunting grounds, the social unit whose members lavish him with attention).
II. Deficiency Induced Dysphoria
Deep and acute depression which follows the aforementioned losses of Supply Sources or a PN Space. Having mourned these losses, the narcissist now grieves their inevitable outcome – the absence or deficiency of Narcissistic Supply. Paradoxically, this dysphoria energises the narcissist and moves him to find new Sources of Supply to replenish his dilapidated stock (thus initiating a Narcissistic Cycle).
III. Self-Worth Dysregulation Dysphoria
The narcissist reacts with depression to criticism or disagreement, especially from a trusted and long-term Source of Narcissistic Supply. He fears the imminent loss of the source and the damage to his own, fragile, mental balance. The narcissist also resents his vulnerability and his extreme dependence on feedback from others. This type of depressive reaction is, therefore, a mutation of self-directed aggression.
(continued below)
---
This article appears in my book "Malignant Self-love: Narcissism Revisited"
Click HERE to buy the print edition from Amazon (click HERE to buy a copy dedicated by the author)
Click HERE to buy the print edition from Barnes and Noble
Click HERE to buy the print edition from the publisher and receive a BONUS PACK
Click HERE to buy electronic books (e-books) and video lectures (DVDs) about narcissists, psychopaths, and abuse in relationships
Click HERE to buy the ENTIRE SERIES of sixteen electronic books (e-books) about narcissists, psychopaths, and abuse in relationships
Click HERE for SPECIAL OFFER 1 and HERE for SPECIAL OFFER 2
Follow me on Twitter, Facebook (my personal page or the book's), YouTube
---
IV. Grandiosity Gap Dysphoria
The narcissist's firmly, though counterfactually, perceives himself as omnipotent, omniscient, omnipresent, brilliant, accomplished, irresistible, immune, and invincible. Any data to the contrary is usually filtered, altered, or discarded altogether. Still, sometimes reality intrudes and creates a Grandiosity Gap. The narcissist is forced to face his mortality, limitations, ignorance, and relative inferiority. He sulks and sinks into an incapacitating but short-lived dysphoria.
V. Self-Punishing Dysphoria
Deep inside, the narcissist hates himself and doubts his own worth. He deplores his desperate addiction to Narcissistic Supply. He judges his actions and intentions harshly and sadistically. He may be unaware of these dynamics – but they are at the heart of the narcissistic disorder and the reason the narcissist had to resort to narcissism as a defence mechanism in the first place.
This inexhaustible well of ill will, self-chastisement, self-doubt, and self-directed aggression yields numerous self-defeating and self-destructive behaviours – from reckless driving and substance abuse to suicidal ideation and constant depression.
It is the narcissist's ability to confabulate that saves him from himself. His grandiose fantasies remove him from reality and prevent recurrent narcissistic injuries. Many narcissists end up delusional, schizoid, or paranoid. To avoid agonising and gnawing depression, they give up on life itself.
Anchoring
One therapeutic technique would be "anchoring": re-orienting the narcissist towards self-supply. Rather than resort to fickle and ephemeral external sources of narcissistic supply, the narcissist is taught and encouraged to resort to himself for same: to look forward with excited anticipation to the structured pursuit of hobbies, vocation, traits, skills, and reward-eliciting behaviors. This approach leverages the narcissist's grandiose solipsism and fantasy of omnipotence to render him emotionally self-sufficient.
---
Also Read
The Concept of Narcissistic Supply
The Narcissist's Confabulated Life
Narcissists, Disagreements and Criticism
Misdiagnosing Narcissism - The Bipolar I Disorder
Narcissists, Narcissistic Supply and Sources of Supply
The Narcissist's Self Defeating and Self Destructive Behaviors
---
Copyright Notice
This material is copyrighted. Free, unrestricted use is allowed on a non commercial basis.
The author's name and a link to this Website must be incorporated in any reproduction of the material for any use and by any means.
---
Frequently Asked Questions about Pathological Narcissism
Excerpts from the Archive of the Narcissism List
After the Rain - How the West Lost the East
Internet: A Medium or a Message?
Write to me: palma@unet.com.mk or narcissisticabuse-owner@yahoogroups.com