Self Love and Narcissism
Frequently Asked Question # 23
Narcissists are unable to empathize and suffer from severe emotional and cognitive deficits up to the point of failing the reality test. They are, therefore, incapable of love and loving.
Narcissists do not love themselves: they are emotionally invested in a fictitious concoction, the False Self and in the reaction it garners from their sources of narcissistic supply.
Read more and buy the book(s)
By: Dr. Sam Vaknin
Click HERE to view the video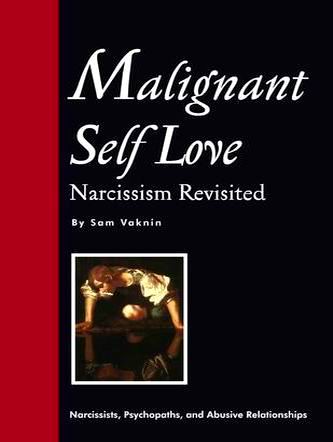 Malignant Self Love - Buy the Book - Click HERE!!!
Relationships with Abusive Narcissists - Buy the e-Books - Click HERE!!!
---
READ THIS: Scroll down to review a complete list of the articles - Click on the blue-coloured text!
Bookmark this Page - and SHARE IT with Others!
---
What is the difference between self-love and narcissism and how does it affect the capacity to love others?
Answer:
Greek myths gave us the word Narcissism as well as the very concept of malignant self love (a phrase that I coined in 1999). The Greek distinguished between various types of love and self-love.

Philautia was the love of oneself which is a prerequisite for loving others: "All friendly feelings for others are an extension of man's feeling for himself", said Aristotle.

Philia is the love between friends (more like affection), usually fighting men, the ancient equivalent of today's bromance.

Storge is love for family members.

Eros is love coupled with enduring lust. Not flirtatious infatuation or a crush (especially among the young), which the Greeks called ludus.

Agape is love that leads to action and involves courage, sacrifice, strength.
There are two differences between healthy self-love and pathological narcissism: (a) in the ability to tell reality from fantasy, and (b) in the ability to empathise and, indeed, to fully and maturely love others. As we said, the narcissist does not love himself. It is because he has very little True Self to love. Instead, a monstrous, malignant construct – the False Self – encroaches upon his True Self and devours it.
The narcissist loves an image which he projects onto others who reflect it to the narcissist (the False Self). This process reassures the narcissist of both the objective existence of his False Self and of the boundaries of his Ego. It blurs all distinctions between reality and fantasy.
The False Self leads to false assumptions and to a contorted personal narrative, to a false worldview, and to a grandiose, inflated sense of being. The latter is rarely grounded in real achievements or merit. The narcissist's feeling of entitlement is all-pervasive, demanding and aggressive. It easily deteriorates into open verbal, psychological and physical abuse of others.
Maintaining a distinction between what we really are and what we dream of becoming, knowing our limits, our advantages and faults and having a sense of true, realistic accomplishments in our life are of paramount importance in the establishment and maintenance of our self-esteem, sense of self-worth and self-confidence.
(continued below)
---
This article appears in my book "Malignant Self-love: Narcissism Revisited"
Click HERE to buy the print edition from Amazon (click HERE to buy a copy dedicated by the author)
Click HERE to buy the print edition from Barnes and Noble
Click HERE to buy the print edition from the publisher and receive a BONUS PACK
Click HERE to buy electronic books (e-books) and video lectures (DVDs) about narcissists, psychopaths, and abuse in relationships
Click HERE to buy the ENTIRE SERIES of sixteen electronic books (e-books) about narcissists, psychopaths, and abuse in relationships
Click HERE for SPECIAL OFFER 1 and HERE for SPECIAL OFFER 2
Follow me on Twitter, Facebook (my personal page or the book's), YouTube
---
Reliant as he is on outside judgement, the narcissist feels miserably inferior and dependent. He rebels against this degrading state of things by escaping into a world of make-belief, daydreaming, pretensions and delusions of grandeur. The narcissist knows little about himself and finds what he knows to be unacceptable.
Our experience of what it is like to be human – our very humanness – depends largely on our self-knowledge and on our experience of our selves. In other words: only through being himself and through experiencing his self – can a human being fully appreciate the humanness of others.
The narcissist has precious little experience of his self. Instead, he lives in an invented world, of his own design, where he is a fictitious figure in a grandiose script. He, therefore, possesses no tools to enable him to cope with other human beings, share their emotions, put himself in their place (empathise) and, of course, love them – the most demanding task of inter-relating.
The narcissist just does not know what it means to be human. He is a predator, rapaciously preying on others for the satisfaction of his narcissistic cravings and appetites for admiration, adoration, applause, affirmation and attention. Humans are Narcissistic Supply Sources and are (over- or de-) valued according to their contributions to this end.
Self-love is a precondition for the experience and expression of mature love. One cannot truly love someone else if one does not first love one's True Self. If we had never loved ourselves – we had never experienced unconditional love and, therefore, we do not know how to love.
If we keep living in a world of fantasy – how could we notice the very real people around us who ask for our love and who deserve it? The narcissist wants to love. In his rare moments of self-awareness, he feels ego-dystonic (unhappy with his situation and with his relationships with others). This is his predicament: he is sentenced to isolation precisely because his need of other people is so great.
---
Also Read
The Dual Role of the False Self
---
Copyright Notice
This material is copyrighted. Free, unrestricted use is allowed on a non commercial basis.
The author's name and a link to this Website must be incorporated in any reproduction of the material for any use and by any means.
---
Excerpts from Archives of the Narcissism List
Internet: A Medium or a Message?
Write to me: palma@unet.com.mk or narcissisticabuse-owner@yahoogroups.com