Is the Narcissist Ever Sorry?
Frequently Asked Questions # 14
Narcissists lack empathy so they never feel remorse or regret for their actions or inaction.
They deny responsibility and shift the blame and guilt to others.
Read more and buy the book(s)
Click HERE to Watch the Video
By: Dr. Sam Vaknin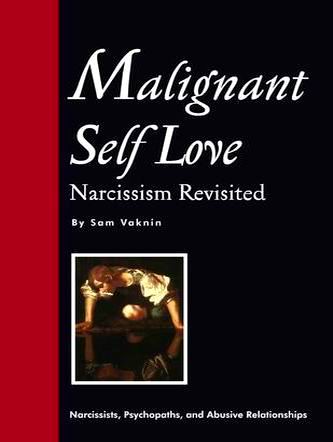 Malignant Self Love - Buy the Book - Click HERE!!!
Relationships with Abusive Narcissists - Buy the e-Books - Click HERE!!!
---
READ THIS: Scroll down to review a complete list of the articles - Click on the blue-coloured text!
Bookmark this Page - and SHARE IT with Others!
---
---
Doesn't the narcissist ever feel sorry for his "victims"?
Answer:
The narcissist always feels "bad". He experiences all manner of depressive episodes and lesser dysphoric moods. He goes through a full panoply of mood disorders and anxiety disorders. He experiences panic from time to time. It is not pleasant to be a narcissist.
But he has a diminished capacity to empathise so he rarely feels sorry for what he does. He almost never puts himself in the shoes of his "victims". Actually, he doesn't regards them as victims at all! It is very common for the narcissist to feel victimized, deprived and discriminated against. He projects his own moods, cognitions, emotions, and actions onto others.
Sure, he feels distressed because he is intelligent enough to realise that something is wrong with him in a major way. He compares himself to others and the outcome is never favourable. His grandiosity is one of the defence mechanisms that he uses to cover up for this disagreeable state of things.
(continued below)
---
This article appears in my book, "Malignant Self-love: Narcissism Revisited"
Click HERE to buy the print edition from Amazon (click HERE to buy a copy dedicated by the author)
Click HERE to buy the print edition from Barnes and Noble
Click HERE to buy the print edition from the publisher and receive a BONUS PACK
Click HERE to buy electronic books (e-books) and video lectures (DVDs) about narcissists, psychopaths, and abuse in relationships
Click HERE to buy the ENTIRE SERIES of sixteen electronic books (e-books) about narcissists, psychopaths, and abuse in relationships
Click HERE for SPECIAL OFFER 1 and HERE for SPECIAL OFFER 2
Follow me on Twitter, Facebook (my personal page or the book's), YouTube
---
But its efficacy is partial and intermittent. The rest of the time, when it's not working, the narcissist is immersed in self-loathing and self-pity. He is under duress and distress most of his waking life. In a vague way, he is also sorry for those upon whom he inflicts the consequences of his personality disorder.
He knows that they are not happy and he understands that it has something to do with him. Mostly, he uses even this to aggrandise himself: poor things, they can never fully understand him, they are so inferior. It is no wonder that they are so depressed. He puts himself at the centre of their world, the axis around which everything and everyone revolves.
When confronted with major crises (a traumatic divorce, a financial entanglement, a demotion) the narcissist experiences real, excruciating, life-threatening pain. This is the narcissist's "cold turkey", his withdrawal symptoms. Narcissistic Supply is, like any other drug, habit forming (psychologically). Its withdrawal has broad implications, all severely painful.
Only then is the answer unqualified, unequivocal and unambiguous: yes, the narcissist is in pain – when devoid of his stream of adoration and other positive reinforcements.
---
Also Read
Do Narcissists Have Emotions ?
---
Copyright Notice
This material is copyrighted. Free, unrestricted use is allowed on a non commercial basis.
The author's name and a link to this Website must be incorporated in any reproduction of the material for any use and by any means.
---
Excerpts from Archives of the Narcissism List
Internet: A Medium or a Message?
Write to me: palma@unet.com.mk or narcissisticabuse-owner@yahoogroups.com