Dr. Jackal and Mr. Hide: The Cerebral vs. the Somatic Narcissist
By: Dr. Sam Vaknin
Click HERE to Watch the Video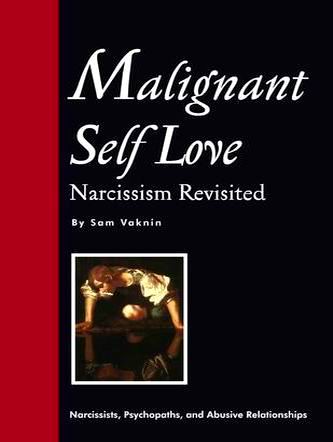 Malignant Self Love - Buy the Book - Click HERE!!!
Relationships with Abusive Narcissists - Buy the e-Books - Click HERE!!!
---
READ THIS: Scroll down to review a complete list of the articles - Click on the blue-coloured text!
Bookmark this Page - and SHARE IT with Others!
---
---
Narcissists are either cerebral or somatic. In other words, they either generate their Narcissistic Supply by applying their bodies or by applying their minds.
The somatic narcissist flaunts his sexual conquests, parades his possessions, exhibits his muscles, brags about his physical aesthetics, youthfulness, sexual prowess or exploits, and is often a health freak and a hypochondriac. Like most males, somatic narcissists are plagued with a sexual overperception bias, but in a more pronounced way than normal: they tend to interpret every female behavior, utterance, and gesture as an unambiguous invitation to have sex.
The somatic narcissist regards his body as an object to be sculpted and honed (via extreme diets, multiple cosmetic surgeries, bodybuilding, or weightlifting). When coupled with psychopathic tendencies, the somatic appropriates other people's bodies and treats these as "raw materials" to be dismembered, tampered with, altered, invaded, or otherwise abused.
Somatic narcissists are often portrayed as sex addicts or histrionic. They are thought to possess "manic defenses" (avoidance of feelings of discomfort, loneliness, and inadequacy by seeking states of hyperactivity, arousal, and excitement). They are also prone to cognitive biases such as sexual overperception (misinterpreting even innocuous female behaviors as indications of sexual interest and flirtation, a mild form of erotomania).
But really somatic narcissists derive their narcissistic supply not so much from the sex act as from the process of securing it: the conspiracies and assignations, the chase and conquest, the subjugation and habituation of their targets, and even from dumping and discarding their prey, once having extracted the attention and admiration they had sought. These extracurricular activities endow them with a sense of omnipotence and all-pervasive control. Their sway over their paramours and would-be lovers proves to them (and to others) their uniqueness, desirability and irresistibility.
Somatic narcissists also seek almost compulsively to induce their partners to climax. Orgasms – their frequency, duration, and intensity - are a measure of virility and "success" and, therefore, a form of narcissistic supply.
The cerebral narcissist is a know-it-all, haughty and intelligent "computer". He uses his awesome intellect, or knowledge (real or pretended) to secure adoration, adulation and admiration. To him, his body and its maintenance are a burden and a distraction.
Both types are auto-erotic (psychosexually in love with themselves, with their bodies and with their brain). Both types prefer masturbation to adult, mature, interactive, multi-dimensional and emotion-laden sex.
The cerebral narcissist is often celibate (even when he has a girlfriend or a spouse). He prefers pornography and sexual auto-stimulation to the real thing. The cerebral narcissist is sometimes a latent (hidden, not yet outed) homosexual.
The somatic narcissist uses other people's bodies to masturbate with, on, and in. Sex with him - pyrotechnics and acrobatics aside - is likely to be an impersonal and emotionally alienating and draining experience. The partner is often treated as an object, an extension of the somatic narcissist, a toy, a warm and pulsating vibrator.
It is a mistake to assume type-constancy. In other words, all narcissists are BOTH cerebral and somatic. In each narcissist, one of the types is dominant. So, the narcissist is either OVERWHELMINGLY cerebral - or DOMINANTLY somatic. But the other type, the recessive (manifested less frequently) type, is there. It is lurking, waiting to erupt.
The narcissist swings between his dominant type and his recessive type. The latter is expressed mainly as a result of a major narcissistic injury or life crisis. Cerebral narcissism is also a form of passive-aggressive behavior intended to punish the narcissist's intimate partner for her transgressions or mere incompatibility with the narcissist by withholding sex and intimacy.
In the case of the cerebral narcissist, there are several triggers that facilitate the transition from the dominant to the recessive type (to somatic narcissism) and back:
I. A life crisis that causes the narcissist to hit rock bottom and to exhaust all his options. In need of a quick fix of narcissistic supply, the cerebral resorts to sex with its immediate gratification and palpable, measurable outcomes ("conquests"). Sex is also the narcissist's way of roping in a new intimate partner and of maintaining her presence and loyalty to him;
II. Deficient narcissistic supply: When the cerebral's source of secondary supply (his intimate partner) "quits" and no longer fulfils her function as a repository of and a voluble witness to the narcissist's past triumphs and accomplishments, when she becomes critical of him or disagrees with him, no longer follows his leadership and ignores his commands - the narcissist switches from somatic to cerebral. In the narcissist, narcissistic supply is intimately linked and directly proportional to his libido (and more particularly to his sex drive): the dwindling of the former results in the abolition of the latter and in depression;
III. When the narcissist's partner refuses to partake in his sexual fantasies and to collaborate in their execution, he experiences it as rejection, the most extreme form of narcissistic injury and he withdraws and becomes cerebral.
I can give you hundreds of examples from my correspondence but, instead, let's talk about me (of course...:o))
(continued below)
---
This article appears in my book, "Malignant Self-love: Narcissism Revisited"
Click HERE to buy the print edition from Amazon (click HERE to buy a copy dedicated by the author)
Click HERE to buy the print edition from Barnes and Noble
Click HERE to buy the print edition from the publisher and receive a BONUS PACK
Click HERE to buy electronic books (e-books) and video lectures (DVDs) about narcissists, psychopaths, and abuse in relationships
Click HERE to buy the ENTIRE SERIES of sixteen electronic books (e-books) about narcissists, psychopaths, and abuse in relationships
Click HERE for SPECIAL OFFER 1 and HERE for SPECIAL OFFER 2
Follow me on Twitter, Facebook (my personal page or the book's), YouTube
---
I am a cerebral narcissist. I brandish my brainpower, exhibit my intellectual achievements, bask in the attention given to my mind and its products. I hate my body and neglect it. It is a nuisance, a burden, a derided appendix, an inconvenience, a punishment. Needless to add that I rarely have sex (often decades apart). I masturbate regularly, very mechanically, as one would change water in an aquarium. I stay away from women because I perceive them to be ruthless predators who are out to consume me and mine.
When I am depressed, my libido is gone, so sexlessness is a moot point. When I am manic and grandiose, I am also sadistic. I then seek to frustrate, humiliate, and discomfort people (and women in particular) as a way of upholding my sense of omnipotence. By denying myself sex, my grandiose and glorified celibacy serves both to taunt and torment women around me, to defang and disempower them, and to buttress my conviction that I am superior and unique. Only supreme beings do not succumb to the irresistible allure of sex.
I have had quite a few major life crises. I got divorced, lost millions a few times, did time in one of the worst prisons in the world, fled countries as a political refugee, was threatened, harassed and stalked by powerful people and groups. I have been devalued, betrayed, denigrated and insulted.
Invariably, following every life crisis, the somatic narcissist in me took over. I became a lascivious lecher. When this happened, I had a few relationships - replete with abundant and addictive sex - going simultaneously. I participated in and initiated group sex and mass orgies. I exercised, lost weight and honed my body into an irresistible proposition. The aim was to "acquire" the next woman in line to serve as a source of secondary narcissistic supply. This accomplished, the outburst of unrestrained, primordial lust waned in a few months and I settled back into my cerebral ways. No sex, no women, no body.
These total reversals of character stun my mates. My girlfriends and spouses found it impossible to digest this eerie transformation from the gregarious, darkly handsome, well-built and sexually insatiable person that swept them off their feet - to the bodiless, flabby, bookwormish hermit with not an inkling of interest in either sex or other carnal pleasures.
I miss my somatic half. I wish I could find a balance, but I know it is a doomed quest. This sexual beast of mine will forever be trapped in the intellectual cage that is I, Sam Vaknin, the Brain.
Sin of self-love possesseth all mine eye
And all my soul and all my every part;
And for this sin there is no remedy,
It is so grounded inward in my heart.
Methinks no face so gracious is as mine,
No shape so true, no truth of such account;
And for myself mine own worth do define,
As I all other in all worths surmount.
But when my glass shows me myself indeed,
Beated and chopp'd with tann'd antiquity,
Mine own self-love quite contrary I read;
Self so self-loving were iniquity.
'Tis thee, myself, that for myself I praise,
Painting my age with beauty of thy days.
(Sonnet 62, William Shakespeare)
Plac'd on this isthmus of a middle state,
A Being darkly wise, and rudely great:
With too much knowledge for the Sceptic side,
With too much weakness for the Stoic's pride,
He hangs between; in doubt to act, or rest;
In doubt to deem himself a God, or Beast;
In doubt his mind or body to prefer;
Born but to die, and reas'ning but to err;
Alike in ignorance, his reason such,
Whether he thinks too little, or too much;
Chaos of Thought and Passion, all confus'd;
Still by himself, abus'd or disabus'd;
Created half to rise and half to fall;
Great Lord of all things, yet a prey to all,
Sole judge of truth, in endless error hurl'd;
The glory, jest and riddle of the world.
(Essay on Man, Alexander Pope)
---
Also read
The Natural Roots of Sexuality
Narcissists, Sex, and Fidelity
Parenting - The Irrational Vocation
Ethical Relativism and Absolute Taboos
---
Copyright Notice
This material is copyrighted. Free, unrestricted use is allowed on a non commercial basis.
The author's name and a link to this Website must be incorporated in any reproduction of the material for any use and by any means.
---
Frequently Asked Questions about Pathological Narcissism
Excerpts from the Archive of the Narcissism List
After the Rain - How the West Lost the East
Internet: A Medium or a Message?
Write to me: palma@unet.com.mk or narcissisticabuse-owner@yahoogroups.com