Excerpts from the Archives of the Narcissism List - Part 55
Narcissism, Pathological Narcissism, The Narcissistic Personality Disorder (NPD), the Narcissist,
and Relationships with Abusive Narcissists and Psychopaths
Listowner: Dr. Sam Vaknin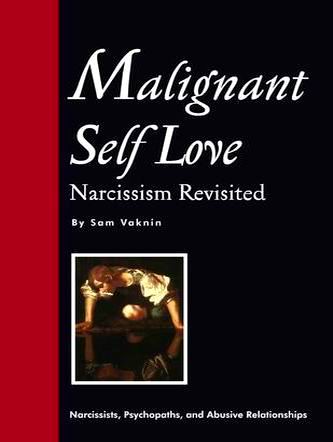 Malignant Self Love - Buy the Book - Click HERE!!!
Relationships with Abusive Narcissists - Buy the e-Books - Click HERE!!!
---
READ THIS: Scroll down to review a complete list of the articles - Click on the blue-coloured text!
Bookmark this Page - and SHARE IT with Others!
---
---
HealthyPlace Narcissistic Personality Disorder (NPD) Community
Case Studies on the Psychopath and Narcissist Survivors Support Group
Ask Sam on the Psychopath and Narcissist Survivors Support Group
Ask Sam on the Narcissistic Abuse Recovery Forum
---
1. Interview granted to the magazine Fairlady (South Africa)
Q. You touch briefly on how the beginning of a relationship with a charming NPD is exciting and appealing, as he can be extreme with demonstrations of 'love' and attention. Is there a deliberate attempt by the narcissist in the process of securing his targeted source of narcissistic supply, to present a perfect facade, to 'manufacture' this feeling of connection and excitement?
A. The narcissist is confident that people find him irresistible. His unfailing charm is part of his self-imputed omnipotence. This inane conviction is what makes the narcissist a "pathological charmer". The somatic narcissist and the histrionic flaunt their sex appeal, virility or femininity, sexual prowess, musculature, physique, training, or athletic achievements.
The cerebral narcissist seeks to enchant and entrance his audience with intellectual pyrotechnics. Many narcissists brag about their wealth, health, possessions, collections, spouses, children, personal history, family tree – in short: anything that garners them attention and renders them alluring.
Both types of narcissists firmly believe that being unique, they are entitled to special treatment by others. They deploy their "charm offensives" to manipulate their nearest and dearest (or even complete strangers) and use them as instruments of gratification. Exerting personal magnetism and charisma become ways of asserting control and obviating other people's personal boundaries.
The pathological charmer feels superior to the person he captivates and fascinates. To him, charming someone means having power over her, controlling her, or even subjugating her. It is all a mind game intertwined with a power play. The person to be thus enthralled is an object, a mere prop, and of dehumanized utility.
In some cases, pathological charm involves more than a grain of sadism. It provokes in the narcissist sexual arousal by inflicting the "pain" of subjugation on the beguiled who "cannot help" but be enchanted. Conversely, the pathological charmer engages in infantile magical thinking. He uses charm to help maintain object constancy and fend off abandonment – in other words, to ensure that the person he "bewitched" won't disappear on him.
Pathological charmers react with rage and aggression when their intended targets prove to be impervious and resistant to their lure. This kind of narcissistic injury – being spurned and rebuffed – makes them feel threatened, rejected, and denuded. Being ignored amounts to a challenge to their uniqueness, entitlement, control, and superiority. Narcissists wither without constant Narcissistic Supply. When their charm fails to elicit it – they feel annulled, non-existent, and "dead".
Expectedly, they go to great lengths to secure said supply. It is only when their efforts are frustrated that the mask of civility and congeniality drops and reveals the true face of the narcissist – a predator on the prowl.
Q. How important is it for a narcissist to be like you (or have you be like him)? I am thinking here of the importance of having his image/ existence mirrored by his partner. Can you elaborate on what it is like to live as an NPD sufferer, and how does he see his partner?
A. Excellent questions that go to the heart of the problematic and abusive relationships with narcissists. It takes two to tango – and an equal number to sustain a long-term abusive relationship. The abuser and the abused form a bond, a dynamic, and a dependence. Expressions such as "folie a deux" and the "Stockholm Syndrome" capture facets – two of a myriad – of this danse macabre. It often ends fatally. It is always an excruciatingly painful affair.
The abuser – stealthily but unfailingly – exploits the vulnerabilities in the psychological makeup of his victim. The abused party may have low self-esteem, a fluctuating sense of self-worth, primitive defence mechanisms, phobias, mental health problems, a disability, a history of failure, or a tendency to blame herself, or to feel inadequate (autoplastic neurosis). She may have come from an abusive family or environment – which conditioned her to expect abuse as inevitable and "normal". In extreme and rare cases – the victim is a masochist, possessed of an urge to seek ill-treatment and pain.
The abuser may be functional or dysfunctional, a pillar of society, or a peripatetic con-artist, rich or poor, young or old. There is no universally-applicable profile of the "typical abuser". Yet, abusive behaviour often indicates serious underlying psychopathologies. Absent empathy, the abuser perceives the abused spouse only dimly and partly, as one would an inanimate source of frustration. The abuser, in his mind, interacts only with himself and with "introjects" – representations of outside objects, such as his victims.
On the face of it, there is no (emotional) partner or mate, who typically "binds" with a narcissist. They come in all shapes and sizes. The initial phases of attraction, infatuation and falling in love are pretty normal. The narcissist puts on his best face – the other party is blinded by budding love. A natural selection process occurs only much later, as the relationship develops and is put to the test.
Living with a narcissist can be exhilarating, is always onerous, often harrowing. Surviving a relationship with a narcissist indicates, therefore, the parameters of the personality of the survivor. She (or, more rarely, he) is moulded by the relationship into The Typical Narcissistic Mate/Partner/Spouse.
First and foremost, the narcissist's partner must have a deficient or a distorted grasp of her self and of reality. Otherwise, she (or he) is bound to abandon the narcissist's ship early on. The cognitive distortion is likely to consist of belittling and demeaning herself – while aggrandising and adoring the narcissist.
The partner is, thus, placing herself in the position of the eternal victim: undeserving, punishable, a scapegoat. Sometimes, it is very important to the partner to appear moral, sacrificial and victimised. At other times, she is not even aware of this predicament. The narcissist is perceived by the partner to be a person in the position to demand these sacrifices from her because he is superior in many ways (intellectually, emotionally, morally, professionally, or financially).
(continued below)
---
This article appears in my book, "Malignant Self-love: Narcissism Revisited"
Click HERE to buy the print edition from Amazon (click HERE to buy a copy dedicated by the author)
Click HERE to buy the print edition from Barnes and Noble
Click HERE to buy the print edition from the publisher and receive a BONUS PACK
Click HERE to buy electronic books (e-books) and video lectures (DVDs) about narcissists, psychopaths, and abuse in relationships
Click HERE to buy the ENTIRE SERIES of sixteen electronic books (e-books) about narcissists, psychopaths, and abuse in relationships
Click HERE for SPECIAL OFFER 1 and HERE for SPECIAL OFFER 2
Follow me on Twitter, Facebook (my personal page or the book's), YouTube
---
The status of professional victim sits well with the partner's tendency to punish herself, namely: with her masochistic streak. The tormented life with the narcissist is just what she deserves.
In this respect, the partner is the mirror image of the narcissist. By maintaining a symbiotic relationship with him, by being totally dependent upon her source of masochistic supply (which the narcissist most reliably constitutes and most amply provides) – the partner enhances certain traits and encourages certain behaviours, which are at the very core of narcissism.
The narcissist is never whole without an adoring, submissive, available, self-denigrating partner. His very sense of superiority, indeed his False Self, depends on it. His sadistic Superego switches its attentions from the narcissist (in whom it often provokes suicidal ideation) to the partner, thus finally obtaining an alternative source of sadistic satisfaction.
It is through self-denial that the partner survives. She denies her wishes, hopes, dreams, aspirations, sexual, psychological and material needs, choices, preferences, values, and much else besides. She perceives her needs as threatening because they might engender the wrath of the narcissist's God-like supreme figure.
The narcissist is rendered in her eyes even more superior through and because of this self-denial. Self-denial undertaken to facilitate and ease the life of a "great man" is more palatable. The "greater" the man (=the narcissist), the easier it is for the partner to ignore her own self, to dwindle, to degenerate, to turn into an appendix of the narcissist and, finally, to become nothing but an extension, to merge with the narcissist to the point of oblivion and of merely dim memories of herself.
The two collaborate in this macabre dance. The narcissist is formed by his partner inasmuch as he forms her. Submission breeds superiority and masochism breeds sadism. The relationships are characterised by emergentism: roles are allocated almost from the start and any deviation meets with an aggressive, even violent reaction.
The predominant state of the partner's mind is utter confusion. Even the most basic relationships – with husband, children, or parents – remain bafflingly obscured by the giant shadow cast by the intensive interaction with the narcissist. A suspension of judgement is part and parcel of a suspension of individuality, which is both a prerequisite to and the result of living with a narcissist. The partner no longer knows what is true and right and what is wrong and forbidden.
The narcissist recreates for the partner the sort of emotional ambience that led to his own formation in the first place: capriciousness, fickleness, arbitrariness, emotional (and physical or sexual) abandonment. The world becomes hostile, and ominous and the partner has only one thing left to cling to: the narcissist.
And cling she does. If there is anything which can safely be said about those who emotionally team up with narcissists, it is that they are overtly and overly dependent.
The partner doesn't know what to do – and this is only too natural in the mayhem that is the relationship with the narcissist. But the typical partner also does not know what she wants and, to a large extent, who she is and what she wants to become.
These unanswered questions hamper the partner's ability to gauge reality. Her primordial sin is that she fell in love with an image, not with a real person. It is the voiding of the image that is mourned when the relationship ends.
The break-up of a relationship with a narcissist is, therefore, very emotionally charged. It is the culmination of a long chain of humiliations and of subjugation. It is the rebellion of the functioning and healthy parts of the partner's personality against the tyranny of the narcissist.
The partner is likely to have totally misread and misinterpreted the whole interaction (I hesitate to call it a relationship). This lack of proper interface with reality might be (erroneously) labelled "pathological".
The narcissist is the guru at the centre of a cult. Like other gurus, he demands complete obedience from his flock: his spouse, his offspring, other family members, friends, and colleagues. He feels entitled to adulation and special treatment by his followers. He punishes the wayward and the straying lambs. He enforces discipline, adherence to his teachings, and common goals. The less accomplished he is in reality – the more stringent his mastery and the more pervasive the brainwashing.
The – often involuntary – members of the narcissist's mini-cult inhabit a twilight zone of his own construction. He imposes on them a shared psychosis, replete with persecutory delusions, "enemies", mythical narratives, and apocalyptic scenarios if he is flouted.
The narcissist's control is based on ambiguity, unpredictability, fuzziness, and ambient abuse. His ever-shifting whims exclusively define right versus wrong, desirable and unwanted, what is to be pursued and what to be avoided. He alone determines the rights and obligations of his disciples and alters them at will.
The narcissist is a micro-manager. He exerts control over the minutest details and behaviours. He punishes severely and abuses withholders of information and those who fail to conform to his wishes and goals.
The narcissist does not respect the boundaries and privacy of his reluctant adherents. He ignores their wishes and treats them as objects or instruments of gratification. He seeks to control both situations and people compulsively.
He strongly disapproves of others' personal autonomy and independence. Even innocuous activities, such as meeting a friend or visiting one's family require his permission. Gradually, he isolates his nearest and dearest until they are fully dependent on him emotionally, sexually, financially, and socially.
He acts in a patronising and condescending manner and criticises often. He alternates between emphasising the minutest faults (devalues) and exaggerating the talents, traits, and skills (idealises) of the members of his cult. He is wildly unrealistic in his expectations – which legitimises his subsequent abusive conduct.
The narcissist claims to be infallible, superior, talented, skilful, omnipotent, and omniscient. He often lies and confabulates to support these unfounded claims. Within his cult, he expects awe, admiration, adulation, and constant attention commensurate with his outlandish stories and assertions. He reinterprets reality to fit his fantasies.
His thinking is dogmatic, rigid, and doctrinaire. He does not countenance free thought, pluralism, or free speech and doesn't brook criticism and disagreement. He demands – and often gets – complete trust and the relegation to his capable hands of all decision-making.
He forces the participants in his cult to be hostile to critics, the authorities, institutions, his personal enemies, or the media – if they try to uncover his actions and reveal the truth. He closely monitors and censors information from the outside, exposing his captive audience only to selective data and analyses.
The narcissist's cult is "missionary" and "imperialistic". He is always on the lookout for new recruits – his spouse's friends, his daughter's girlfriends, his neighbours, new colleagues at work. He immediately attempts to "convert" them to his "creed" – to convince them how wonderful and admirable he is. In other words, he tries to render them Sources of Narcissistic Supply.
Often, his behaviour on these "recruiting missions" is different to his conduct within the "cult". In the first phases of wooing new admirers and proselytising to potential "conscripts" – the narcissist is attentive, compassionate, empathic, flexible, self-effacing, and helpful. At home, among the "veterans" he is tyrannical, demanding, wilful, opinionated, aggressive, and exploitative.
As the leader of his congregation, the narcissist feels entitled to special amenities and benefits not accorded the "rank and file". He expects to be waited on hand and foot, to make free use of everyone's money and dispose of their assets liberally, and to be cynically exempt from the rules that he himself established (if such violation is pleasurable or gainful).
In extreme cases, the narcissist feels above the law – any kind of law. This grandiose and haughty conviction leads to criminal acts, incestuous or polygamous relationships, and recurrent friction with the authorities.
Hence the narcissist's panicky and sometimes violent reactions to "dropouts" from his cult. There's a lot going on that the narcissist wants kept under wraps. Moreover, the narcissist stabilises his fluctuating sense of self-worth by deriving Narcissistic Supply from his victims. Abandonment threatens the narcissist's precariously balanced personality.
Add to that the narcissist's paranoid and schizoid tendencies, his lack of introspective self-awareness, and his stunted sense of humour (lack of self-deprecation) and the risks to the grudging members of his cult are clear.
The narcissist sees enemies and conspiracies everywhere. He often casts himself as the heroic victim (martyr) of dark and stupendous forces. In every deviation from his tenets he espies malevolent and ominous subversion. He, therefore, is bent on
Q. Is he a master of disguise in that he can learn 'parrot fashion' how he should behave socially?
A. The weaker variety of narcissist tries to emulate and simulate "emotions" – or, at least their expression, the external facet (affect). They mimic and replicate the intricate pantomime that they learn to associate with the existence of feelings. But there are no real emotions there, no emotional correlate.
This is empty affect, devoid of emotion. This being so, the narcissist quickly tires of it, becomes impassive and begins to produce inappropriate affect (e.g., he remains indifferent when grief is the normal reaction). The narcissist subjects his feigned emotions to his cognition. He "decides" that it is appropriate to feel so and so. His "emotions" are invariably the result of analysis, goal setting and planning.
He substitutes "remembering" for "sensing". He relegates his bodily sensations, feelings and emotions to a kind of a memory vault. The short and medium-term memory is exclusively used to store his reactions to his (actual and potential) Narcissistic Supply Sources.
He reacts only to such sources. The narcissist finds it hard to remember or recreate what he ostensibly - though ostentatiously - "felt" (even a short while back) towards a Narcissistic Supply Source once it has ceased to be one. In his attempts to recall his feelings, he draws a mental blank.
It is not that narcissists are incapable of expressing what we would tend to classify as "extreme emotional reactions". They mourn and grieve, rage and smile, excessively "love" and "care". But this is precisely what sets them apart: this rapid movement from one emotional extreme to another and the fact that they never occupy the emotional middle ground.
The narcissist is especially "emotional" when weaned off his drug of Narcissistic Supply. Breaking a habit is always difficult – especially one that defines (and generates) oneself. Getting rid of an addiction is doubly taxing. The narcissist misidentifies these crises with an emotional depth and his self-conviction is so immense, that he mostly succeeds to delude his environment, as well. But a narcissistic crisis (losing a Source of Narcissistic Supply, obtaining an alternative one, moving from one Narcissistic Pathological Space to another) – must never be confused with the real thing, which the narcissist never experiences: emotions.
Many narcissists have "emotional resonance tables". They use words as others use algebraic signs: with meticulousness, with caution, with the precision of the artisan. They sculpt in words the fine tuned reverberations of pain and love and fear. It is the mathematics of emotional grammar, the geometry of the syntax of passions. Devoid of all emotions, narcissists closely monitor people's reactions and adjust their verbal choices accordingly, until their vocabulary resembles that of their listeners. This is as close as narcissists get to empathy.
To summarise, the emotional life of the narcissist is colourless and eventless, as rigidly blind as his disorder, as dead as he. He does feel rage and hurt and inordinate humiliation, envy and fear. These are very dominant, prevalent and recurrent hues in the canvass of his emotional existence. But there is nothing there except these atavistic gut reactions.
Whatever it is that the narcissist experiences as emotions – he experiences in reaction to slights and injuries, real or imagined. His emotions are all reactive, not active. He feels insulted – he sulks. He feels devalued – he rages. He feels ignored – he pouts. He feels humiliated – he lashes out. He feels threatened – he fears. He feels adored – he basks in glory. He is virulently envious of one and all.
The narcissist can appreciate beauty but in a cerebral, cold and "mathematical" way. Many have no mature, adult sex drive to speak of. Their emotional landscape is dim and grey, as though through a glass darkly.
Many narcissists can intelligently discuss those emotions never experienced by them – like empathy, or love – because they make it a point to read a lot and to communicate with people who claim to be experiencing them. Thus, they gradually construct working hypotheses as to what people feel. As far as the narcissist is concerned, it is pointless to try to really understand emotions – but at least these models he does form allow him to better predict people's behaviours and adjust to them.
Narcissists are not envious of others for having emotions. They disdain feelings and sentimental people because they find them to be weak and vulnerable and they deride human frailties and vulnerabilities. Such derision makes the narcissist feel superior and is probably the ossified remains of a defence mechanism gone awry.
Narcissists are afraid of pain. It is the pebble in their Indra's Net – lift it and the whole net moves. Their pains do not come isolated – they constitute families of anguish, tribes of hurt, whole races of agony. The narcissist cannot experience them separately – only collectively.
Narcissism is an effort to contain the ominous onslaught of stale negative emotions, repressed rage, a child's injuries.
Pathological narcissism is useful – this is why it is so resilient and resistant to change. When it is "invented" by the tormented individual, it enhances his functionality and makes life bearable for him. Because it is so successful, it attains religious dimensions – it become rigid, doctrinaire, automatic and ritualistic.
In other words, pathological narcissism becomes a PATTERN of behaviour. This rigidity is like an outer shell, an exoskeleton. It constrains the narcissist and limits him. It is often prohibitive and inhibitive. As a result, the narcissist is afraid to do certain things. He is injured or humiliated when forced to engage in certain activities. He reacts with rage when the mental edifice underlying his disorder is subjected to scrutiny and criticism – no matter how benign.
Narcissism is ridiculous. Narcissists are pompous, grandiose, repulsive and contradictory. There is a serious mismatch between who they really are, their true accomplishments, and how they regard themselves. The narcissist doesn't merely THINK that he is far superior to others. The perception of his superiority is ingrained in him, it is a part of his every mental cell, an all-pervasive sensation, an instinct and a drive.
He feels that he is entitled to special treatment and to outstanding consideration because he is such a unique specimen. He knows this to be true – the same way one knows that one is surrounded by air. It is an integral part of his identity. More integral to him than his body.
This opens a gap – rather, an abyss – between the narcissist and other humans. Because he considers himself so special and so superior, he has no way of knowing how it is to be human, neither the inclination to explore it. In other words, the narcissist cannot and will not empathise.
Can you empathise with an ant? Empathy implies identity or equality with the empathized, both abhorrent to the narcissist. And being perceived by the narcissist to be so inferior, people are reduced to cartoonish, two-dimensional representations of functions. They become instrumental, or useful, or functional, or entertaining, gratifying or infuriating, frustrating or accommodating objects – rather than loving or emotionally responsive.
It leads to ruthlessness and exploitativeness. Narcissists are not "evil" – actually, the narcissist considers himself to be a good person. Many narcissists help people, professionally, or voluntarily. But narcissists are indifferent. They couldn't care less. They help people because it is a way to secure attention, gratitude, adulation and admiration. And because it is the fastest and surest way to get rid of them and their incessant nagging.
The narcissist may realise these unpleasant truths cognitively – but there is no corresponding emotional reaction (emotional correlate) to this realisation. There is no resonance. It is like reading a boring users' manual pertaining to a computer you do not even own. There is no insight, no assimilation of these truths.
(continued below)
---
This article appears in my book, "Malignant Self-love: Narcissism Revisited"
Click HERE to buy the print edition from Amazon (click HERE to buy a copy dedicated by the author)
Click HERE to buy the print edition from Barnes and Noble
Click HERE to buy the print edition from the publisher and receive a BONUS PACK
Click HERE to buy electronic books (e-books) and video lectures (DVDs) about narcissists, psychopaths, and abuse in relationships
Click HERE to buy the ENTIRE SERIES of sixteen electronic books (e-books) about narcissists, psychopaths, and abuse in relationships
Click HERE for SPECIAL OFFER 1 and HERE for SPECIAL OFFER 2
Follow me on Twitter, Facebook (my personal page or the book's), YouTube
---
Still, to further insulate himself from the improbable possibility of confronting the gulf between reality and grandiose fantasy (the Grandiosity Gap) – the narcissist comes up with the most elaborate mental structure, replete with mechanisms, levers, switches and flickering alarm lights.
Narcissism Isolates the narcissist from the pain of facing reality and allows him to inhabit the fantasyland of ideal perfection and brilliance.
Q. Is there also a degree of confusion for the NPD sufferer himself, as there is no self-analysis or introspection, he must not understand his own reactions and why he does what he does. That is, in situations where he does something that is clearly out of order (even to himself).
A. Sometimes the narcissist does gain self-awareness and knowledge of his predicament - typically in the wake of a life crisis (divorce, bankruptcy, incarceration, accident, serious illness, or the death of a loved one). But, in the absence of an emotional correlate, of feelings, such merely cognitive awakening is useless. It does not gel into an insight. The dry facts alone cannot bring about any transformation, let alone healing.
Narcissists often go through "soul searching". But they do so only in order to optimize their performance, to maximize the number of sources of narcissistic supply, and to better manipulate their environment. They regard introspection as an inevitable and intellectually enjoyable maintenance chore.
The introspection of the narcissist is emotionless, akin to an inventory of his "good" and "bad" sides and without any commitment to change. It does not enhance his ability to empathize, nor does it inhibit his propensity to exploit others and discard them when their usefulness is over. It does not tamper his overpowering and raging sense of entitlement, nor does it deflate his grandiose fantasies.
The narcissist's introspection is a futile and arid exercise at bookkeeping, a soulless bureaucracy of the psyche and, in its own way, even more chilling that the alternative: a narcissist blissfully unaware of his own disorder.
Deep inside, the narcissist knows that something is amiss. He does not empathise with other people's feelings. Actually, he holds them in contempt and ridicule. He cannot understand how people are so sentimental, so "irrational" (he identifies being rational with being cool headed and cold blooded).
Often the narcissist believes that other people are "faking it", merely aiming to achieve a goal. He is convinced that their "feelings" are grounded in ulterior, non-emotional, motives. He becomes suspicious, embarrassed, feels compelled to avoid emotion-tinged situations, or, worse, experiences surges of almost uncontrollable aggression in the presence of genuinely expressed sentiments. They remind him how imperfect and poorly equipped he is.
Thus, the narcissist always feels "bad". He experiences all manner of depressive episodes and lesser dysphoric moods. He goes through a full panoply of mood disorders and anxiety disorders. He experiences panic from time to time. It is not pleasant to be a narcissist.
But he has a diminished capacity to empathise so he rarely feels sorry for what he does. He almost never puts himself in the shoes of his "victims". Actually, he doesn't regards them as victims at all! It is very common for the narcissist to feel victimized, deprived and discriminated against. He projects his own moods, cognitions, emotions, and actions onto others.
Sure, he feels distressed because he is intelligent enough to realise that something is wrong with him in a major way. He compares himself to others and the outcome is never favourable. His grandiosity is one of the defence mechanisms that he uses to cover up for this disagreeable state of things.
But its efficacy is partial and intermittent. The rest of the time, when it's not working, the narcissist is immersed in self-loathing and self-pity. He is under duress and distress most of his waking life. In a vague way, he is also sorry for those upon whom he inflicts the consequences of his personality disorder.
He knows that they are not happy and he understands that it has something to do with him. Mostly, he uses even this to aggrandise himself: poor things, they can never fully understand him, they are so inferior. It is no wonder that they are so depressed. He puts himself at the centre of their world, the axis around which everything and everyone revolves.
When confronted with major crises (a traumatic divorce, a financial entanglement, a demotion) – the narcissist experiences real, excruciating, life-threatening pain. This is the narcissist's "cold turkey", his withdrawal symptoms. Narcissistic Supply is, like any other drug, habit forming (psychologically). Its withdrawal has broad implications, all severely painful.
Only then is the answer unqualified, unequivocal and unambiguous: yes, the narcissist is in pain – when devoid of his stream of adoration and other positive reinforcements.
Many scholars consider pathological narcissism to be a form of depressive illness. This is the position of the authoritative magazine "Psychology Today". The life of the typical narcissist is, indeed, punctuated with recurrent bouts of dysphoria (ubiquitous sadness and hopelessness), anhedonia (loss of the ability to feel pleasure), and clinical forms of depression (cyclothymic, dysthymic, or other). This picture is further obfuscated by the frequent presence of mood disorders, such as Bipolar I (co-morbidity).
While the distinction between reactive (exogenous) and endogenous depression is obsolete, it is still useful in the context of narcissism. Narcissists react with depression not only to life crises but to fluctuations in Narcissistic Supply.
The narcissist's personality is disorganised and precariously balanced. He regulates his sense of self-worth by consuming Narcissistic Supply from others. Any threat to the uninterrupted flow of said supply compromises his psychological integrity and his ability to function. It is perceived by the narcissist as life threatening.
I. Loss Induced Dysphoria
This is the narcissist's depressive reaction to the loss of one or more Sources of Narcissistic Supply – or to the disintegration of a Pathological Narcissistic Space (PN Space, his stalking or hunting grounds, the social unit whose members lavish him with attention).
II. Deficiency Induced Dysphoria
Deep and acute depression which follows the aforementioned losses of Supply Sources or a PN Space. Having mourned these losses, the narcissist now grieves their inevitable outcome – the absence or deficiency of Narcissistic Supply. Paradoxically, this dysphoria energises the narcissist and moves him to find new Sources of Supply to replenish his dilapidated stock (thus initiating a Narcissistic Cycle).
III. Self-Worth Dysregulation Dysphoria
The narcissist reacts with depression to criticism or disagreement, especially from a trusted and long-term Source of Narcissistic Supply. He fears the imminent loss of the source and the damage to his own, fragile, mental balance. The narcissist also resents his vulnerability and his extreme dependence on feedback from others. This type of depressive reaction is, therefore, a mutation of self-directed aggression.
IV. Grandiosity Gap Dysphoria
The narcissist's firmly, though counterfactually, perceives himself as omnipotent, omniscient, omnipresent, brilliant, accomplished, irresistible, immune, and invincible. Any data to the contrary is usually filtered, altered, or discarded altogether. Still, sometimes reality intrudes and creates a Grandiosity Gap. The narcissist is forced to face his mortality, limitations, ignorance, and relative inferiority. He sulks and sinks into an incapacitating but short-lived dysphoria.
V. Self-Punishing Dysphoria
Deep inside, the narcissist hates himself and doubts his own worth. He deplores his desperate addiction to Narcissistic Supply. He judges his actions and intentions harshly and sadistically. He may be unaware of these dynamics – but they are at the heart of the narcissistic disorder and the reason the narcissist had to resort to narcissism as a defence mechanism in the first place.
This inexhaustible well of ill will, self-chastisement, self-doubt, and self-directed aggression yields numerous self-defeating and self-destructive behaviours – from reckless driving and substance abuse to suicidal ideation and constant depression.
It is the narcissist's ability to confabulate that saves him from himself. His grandiose fantasies remove him from reality and prevent recurrent narcissistic injuries. Many narcissists end up delusional, schizoid, or paranoid. To avoid agonising and gnawing depression, they give up on life itself.
2. Gradually Detaching from Your Abuser
A long period of transition is beneficial when you say goodbye to LOVED ones and when you grieve YOUR OWN impemding death.

When you need three years to say goodbye to your ABUSER - something is wrong with you. It is called codependence and is pathological. Healthy people want to put as much distance as they can between themselves and their source of pain and to do it as quickly as possible.
---
Copyright Notice
This material is copyrighted. Free, unrestricted use is allowed on a non commercial basis.
The author's name and a link to this Website must be incorporated in any reproduction of the material for any use and by any means.
---
Lasch - The Cultural Narcissist
Excerpts from Archives of the Narcissism List
Narcissism Frequently Asked Questions
The Iron Mask - The Common Sources of Personality Disorders
Internet: A Medium or a Message?
Write to me: palma@unet.com.mk or narcissisticabuse-owner@yahoogroups.com