Excerpts from the Archives of the Narcissism List - Part 48
Listowner: Dr. Sam Vaknin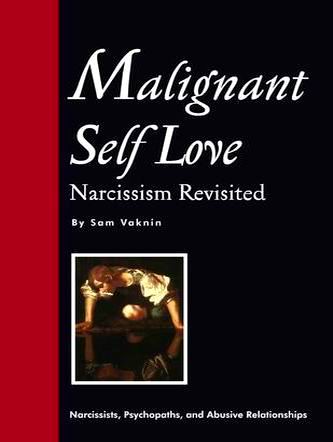 Malignant Self Love - Buy the Book - Click HERE!!!
Relationships with Abusive Narcissists - Buy the e-Books - Click HERE!!!
---
READ THIS: Scroll down to review a complete list of the articles - Click on the blue-coloured text!
Bookmark this Page - and SHARE IT with Others!
---
---
HealthyPlace Narcissistic Personality Disorder (NPD) Community
Case Studies on the Psychopath and Narcissist Survivors Support Group
Ask Sam on the Psychopath and Narcissist Survivors Support Group
Ask Sam on the Narcissistic Abuse Recovery Forum
---
1. Maintaining Happiness
Narcissists are concerned with the happiness of their nearest and dearest only insofar as it prevents the loss of a Source of Supply.
A married narcissist tries to make his spouse happy as long as she serves as a good fount of adulation, admiration, attention, approval, and affirmation. If she is unhappy - she walks. If she is happy - she stays.
Think of it as a maintenance chore: You service your car. If you don't maintain it - is stops. You maintain it - it gets you places.
The irony is that narcissists - being emotional aliens - don't know what makes people tick (they lack empathy). So, they get it all wrong. Their efforts to secure the happiness of their Sources of Supply backfire and lead to unhappiness and abandonment.
2. Alcoholism and Narcissism
Substance abuse - one form of reckless behavior - exacerbates narcissistic behaviors, mainly by removing inhibitions and by "justifying" unruly, unempathetic conduct (the "diminished capacity" defense). But it cannot be the root cause of pathological narcissism, unless the person started drinking when he was 6 months old. Pathological narcissism forms in early childhood, is apparent in early adolescence and can be safely diagnosed at the age of 18.
But, yes, it is possible to confuse narcissistic behaviors, style, or personality - common among addicts - with the full fledged diagnosis of NPD. After all, NPD is an addiction - to Narcissistic Supply.
3. Suite101 Featured Editor Interview
Q: What brought you to Suite101? Why did you start writing about your topics?
A: Word of mouth. People prompted me to "adopt" a topic with Suite101, praising it as a vibrant community with lots of traffic, atmosphere, and mutual support. I finally caved in and was never sorry for doing so. I started with the Narcissistic Personality Disorder topic. Since narcissists inflict abuse on their nearest and dearest - I naturally proceeded to edit the Verbal and Emotional Abuse and Spousal and Domestic Abuse topics.
(continued below)
---
This article appears in my book, "Malignant Self-love: Narcissism Revisited"
Click HERE to buy the print edition from Amazon (click HERE to buy a copy dedicated by the author)
Click HERE to buy the print edition from Barnes and Noble
Click HERE to buy the print edition from the publisher and receive a BONUS PACK
Click HERE to buy electronic books (e-books) and video lectures (DVDs) about narcissists, psychopaths, and abuse in relationships
Click HERE to buy the ENTIRE SERIES of sixteen electronic books (e-books) about narcissists, psychopaths, and abuse in relationships
Click HERE for SPECIAL OFFER 1 and HERE for SPECIAL OFFER 2
Follow me on Twitter, Facebook (my personal page or the book's), YouTube
---
Q: Can you tell me a little bit about your home life/family?
A: I am a dislocated Israeli. My mental health disorder - I suffer from the Narcissistic Personality Disorder - led to an arduous period, including a divorce, a short incarceration and bankruptcy. I left Israel and have spent the last 7 years living in Macedonia, a tiny Balkan country, formerly in the Federal Yugoslavia. Here I met an entrepreneurial young woman, Lidija, who published my books. I ended up marrying her. I love her very much but my untreated condition often gets in the way.
Q: What type of hobbies do you have?
A: I love to read, write, and watch quality films. I guess I am the sedentary type. I am positively addicted to knowledge and accumulate it in any form possible: in my head, in books, and in CD-ROMs.
Q: Is there anything that you think our readers should know about you?
A: I am trying very hard to help people - potential victims of abuse - by warning them against people like me, by validating their experiences, and by empowering them. It is a self-contradictory mission but I am proud in what I have achieved hitherto.
4. Self-Awareness and Narcissistic Supply
The narcissist forms an attachment to his disorder - his fervent protestations to the contrary safely ignored.
Anything and everything the narcissist learns about himself (and about others) is immediately put to use to enhance his efficiency and to extract additional Narcissistic Supply.
5. The Narcissist's Grudges
Narcissists are often vindictive and they often stalk and harass.
They rarely forget a slight or an insult - real or imagined. They nurture the pain, dwell on it, magnify it, analyze it, and form conspiracy theories to explain it.
Still, it is very easy to regain the narcissist's trust and favor by providing him with Narcissistic Supply.
---
Copyright Notice
This material is copyrighted. Free, unrestricted use is allowed on a non commercial basis.
The author's name and a link to this Website must be incorporated in any reproduction of the material for any use and by any means.
---
Lasch - The Cultural Narcissist
Excerpts from Archives of the Narcissism List
Narcissism Frequently Asked Questions
The Iron Mask - The Common Sources of Personality Disorders
Internet: A Medium or a Message?
Write to me: palma@unet.com.mk or narcissisticabuse-owner@yahoogroups.com