Predgovor kon
"Makedonskata ekonomija na krstopat - na patot kon zazdravuvanjeto"
od Nikola Gruevski i Dr. Sem Vaknin
od: Svetozar Janevski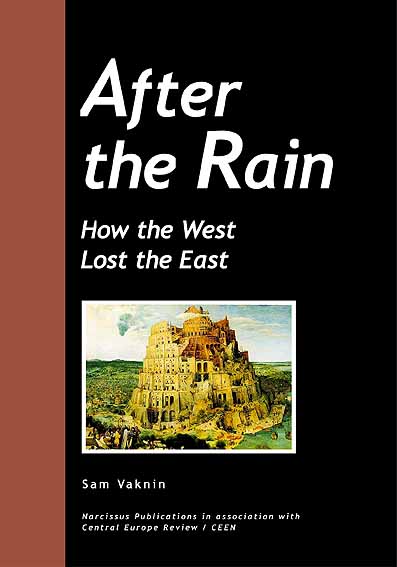 ---
Malignant Self Love - Buy the Book - Click HERE!!!
Relationships with Abusive Narcissists - Buy the e-Books - Click HERE!!!
---
READ THIS: Scroll down to review a complete list of the articles - Click on the blue-coloured text!
Bookmark this Page - and SHARE IT with Others!
---
"Makedonskata ekonomija na krstopat - na patot kon zazdravuvanjeto" e delo na dvajca dobri poznavaci na problemite na makedonskata makro i mikro ekonomija, no istovremeno i na modernite svetski ekonomski trendovi: D-r Sem Vaknin i Nikola Gruevski. Iako "dijalogot" vo svetot e cesto pati eksploatiran nacin na izrazuvanje i avtorstvo vo Makedonija prv pat se javuva kako forma na sozdavanje na edno seriozno, kreativno i kvalitetno delo od oblasta na ekonomijata.
Sozdadeno od dva podolgi dijalozi na dve razlicni temi, toa ne prestavuva analiza na samo dva ekonomski problema vo Makedonija: toa pomalku ili poveke gi zafaka site bolni tocki na makedonskata ekonomija, ne propustajki pri toa da ponudi resenija za nivno nadminuvanje, cesto dobro provereni i primeneti vo poveke zemji vo svetot i so originalna premisa na lokalnata specificnost.
Dijalozite se napraveni vo moment koga makedonskata ekonomija navistina se naoga na krstopat, na pat kon zazdravuvanje ili kon celosna ekonomska marginalizacija, kako pesimisticka alternativa na krajniot ishod. Propustajki go prviot bran na stranski komercijalni investicii vo Centralna i Istocna Evropa, Makedonija se najde na dnoto na listata na atraktivni drzavi za stranskite investitori. Patem, objektivnite i subjektivnite faktori ne ovozmozija proces na prestruktuiranje na stopanstvoto kon izvozno, sto rezultirase so silen pad na proizvostvoto i izvozot, gubenje na pazarite, najvisoka stapka na nevrabotenost vo Evropa, pad na zivotniot standard na naselenieto, zadolzuvanja, nestabilen bankarski sistem, pravna nesigurnost i red drugi opstestveni i ekonomski problemi. "Trkaloto ne treba da se izmisluva" - podvlekuva vo eden del D-r Vaknin, preporacuvajki istovremeno uspesni modeli na reanimacija na makedonskoto stopanstvo. Moze da se kaze deka Gruevski i Vaknin na momenti se ostri kriticari, no isto taka i seriozni i temelni, potkrepuvajki go recisi sekoj svoj predlog za promeni so fakti od poveke vidovi. Toa e formulata so koja eden strucen dijalog ne dobiva politicka konotacija.
Dijalogot e mosne otvoren i iskren, bez predrasudi i "bez pardon" koga treba da se determiniraat osnovnite priciniteli na krizata vo Makedonija.
"Tranzicijata zapocnuva vo umot" e naslovot koj bi bil isto tolku soodveten na ovaa kniga kako i ovoj sto go odbraa avtorite. Se cini deka Vaknin i Gruevski smelo otvoraat i diskutiraat mnogu "tabu" prasanja za dosegasnite cekori vo vodenjeto na makedonskata ekonomija, na momenti osvrnuvajki se na mikro nivo (menadzmentot na pretprijatijata, standardite za organizacija i kvalitet, marketingot, investiciite vo kompaniite i slicno), a cesto i analizirajki gi makro ekonomskite varijanti (monetarnata politika, prestruktuiranje na stopanstvoto, bankarstvoto, danocniot sistem, pravno zakonodavniot sistem, pazarite na kapital i slicno).
Dijalozite otkrivaat interesna kombinacija na teorijata i praksata. Tie se pogledi na eden stranski ekonomski ekspert, so bogato minato i iskustvo zad sebe, koj prestojuval dovolno vreme vo Makedonija za da navleze vo srzta na problemite i na eden domasen pomlad postdiplomec po ekonomija, bankar i broker, koj periodot pominat vo stranstvo maksimalno go iskoristil za komparativni osoznavanja i novi moznosti, nudejki pri toa, kako klasicni, taka i originalni resenija za izlez od segasnata sostojba vo koja se naoga Makedonija.
Dijalozite se dobra kombinacija na iskustvo i teorija. Tuka naogame domasni originalni problemi i resenija kako i stranski iskustva, greski, propusti i teorii. Vo ovoj dijalog sretnav konkretni resenija za nacinot kako da se privlecat stranskite investicii vo Makedonija, dobro analizirani i dobro prezentirani. Trgovskiot deficit, koj se cini e od malignen karakter i mozebi najdlabokata i najbolna rana na makedonskata ekonomija e kreativno obraboten i ponudeni se mnogu originalni resenija za lecenje so mozni konkretni cekori po dosega dobro provereni ekonomski recepti.
Se na se, knigata sozdadena od dvata dijalozi na Vaknin i Gruevski e odlicna analiza na makedonskata ekonomija, problemite na makedonskite kompanii, duhot na tranzicijata i realnata dalecina na Makedonija od razvienite zemji. Deloto izobiluva so mnostvo statisticki, komparativni i filozofski analizi i ke bide aktuelno podolg period. Impresioniran sum od ideite i od razlikite vo razmisluvanjata koi provejuvaat niz dijalozite. Gruevski i Vaknin, iako mnogu cesto se so slicni ili so isti pogledi, postojano se nadopolnuvaat, no nikogas ne odbegnuvaat kritika eden na drug koga cuvstvuvaat potreba za toa. Se borat za odbrana na svoite stavovi i nudat isklucitelno prifatlivi i realni makro i mikro ekonomski resenija, isto taka suptilni konkretni merki.
Ubeden sum deka ovaa kniga ke bide citana, analizirana i diskutirana kako sto bea objavenite prodolzenija vo dnevnite vesnici "Dnevnik" i "Makedonija denes". Prakticnite ekonomski resenija mozat da bidat mnogukratno korisni. Kako dolgogodisen menadzer na uspesna makedonska proizvodna kompanija toplo im ja preporacuvam ovaa kniga na citatelite koi sakaat da go zbogatat kvantumot na ekonomski prakticni i teoretski znaenja, niz prizmata na iskustvata na Gruevski i Vaknin.
Svetozar Janevski
Skopje, Oktomvri 1998 godina
---
Copyright Notice
This material is copyrighted. Free, unrestricted use is allowed on a non commercial basis.
The author's name and a link to this Website must be incorporated in any reproduction of the material for any use and by any means.
---
Internet: A Medium or a Message?
Malignant Self Love - Narcissism Revisited
Write to me: palma@unet.com.mk or narcissisticabuse-owner@yahoogroups.com