A Macedonian Encounter
Curing the Economy - The Macedonian Experience
By: Mr. Nikola Gruevski and Dr. Sam Vaknin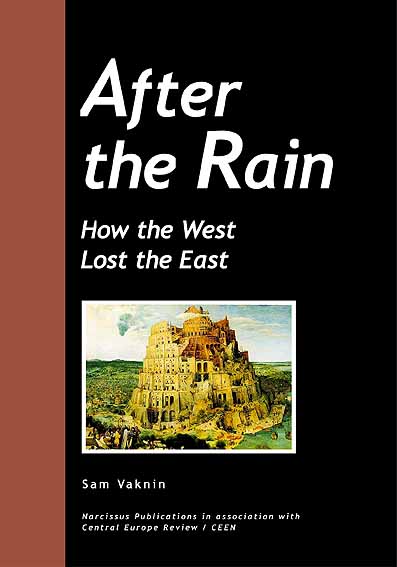 Malignant Self Love - Buy the Book - Click HERE!!!
Relationships with Abusive Narcissists - Buy the e-Books - Click HERE!!!
---
READ THIS: Scroll down to review a complete list of the articles - Click on the blue-coloured text!
Bookmark this Page - and SHARE IT with Others!
---
This is a series of dialogues published in 1998 in Macedonia's leading newspapers, "Makedonija Denes" and "Dnevnik".
Ostensibly, the dialogues deal with the Macedonian economy - and, they do.
Yet, the Macedonian economic experience is so generic and so widespread, so varied and so concentrated - that it really serves as an all-rounded exemplar of economies in transition everywhere.
Macedonia was established in 1991. It had to withstand an embargo (a siege, actually), a collapse of its banking system, non functioning capital markets, lopsided privatization, a collapse of a series of pyramid savings schemes, an acute contraction of its GDP and its industrial production, a yawning balance of payments deficit, dangerously high unemployment, inter-ethnic tensions - and this is a partial list.
It was painful in human terms. It has transformed Macedonia into a fascinating study in the workings of the economic mind, of economic principles and theories, sometimes implemented successfully (macro-economically) – sometimes less so (micro-economically). While this experimenting went on – Macedonians languished in poverty and unemployment, rising crime and public immorality.
This series of dialogues (to be enlarged in the future) explores all the aspects of the Macedonian Economy (read: all the aspects of modern Applied Economics) in depth.
We tried to remember the humans behind the figures and the tragedies behind the numbers. We tried to offer practical solutions which were successfully implemented elsewhere in the world by small economies in distress. We employed our emotions no less than our knowledge. Nowhere more than in Macedonia is the adage "Economics is a branch of psychology" more amply demonstrated. Blessed by an abundance of natural endowments, a superb geographical location, an educated and still relatively inexpensive workforce, and by reasonable infrastructure, stable currency, low inflation and stable political institutions – Macedonia did not take off, partly due to psychological reasons.
Transition starts in the mind. It is there that the transformation should begin. It is there that any future government of Macedonia should concentrate its efforts. Economic reforms will start and end there. Our book is a foray into the minds of all Macedonians concerned with the future of their country. We make this modest offering with the hope to be able contribute to more rational and far-sighted economic decision making in Macedonia. May this be the start of a debate rather the end of it.
---
Copyright Notice
This material is copyrighted. Free, unrestricted use is allowed on a non commercial basis.
The author's name and a link to this Website must be incorporated in any reproduction of the material for any use and by any means.
---
Internet: A Medium or a Message?
Malignant Self Love - Narcissism Revisited
Write to me: palma@unet.com.mk or narcissisticabuse-owner@yahoogroups.com